THE WEEKEND STARTS HERE:
...with THE GO-GOs! They made history as the first all-female band that both wrote their own songs and played their own instruments to top the Billboard album charts. Kind of a hard band to place seasonally. Their debut, Beauty and the Beat, which yielded hits like "Our Lips Are Sealed" and "We Got the Beat," as well as great album cuts like "This Town," "Lust to Love," "Tonite" and "How Much More," came out in late Summer 1981, iirc, and "Lips" was climbing the charts that Fall, so I mentally place the band in this time of year. And it's still warm enough that the title track to the too-quick sophomore album, "Vacation," -- or their cover of the Capitols' "Cool Jerk" -- doesn't sound too out of place. "Get Up and Go" was also a single from that LP, but it didn't make the Top 40. The band would chart twice more -- in 1984, with "Head Over Heels" and "Turn to You" -- before splitting and the near-inevitable reunion tours.
FOUR TET is advance streaming Beautiful Rewind.
LUCINDA WILLIAMS stopped by KUTX for a mini-set.
DAVID BOWIE, Live at the Universal Amphitheater, Sept. 5, 1974.
HEM plays a Tiny Desk Concert at the offices of NPR.
MINOR ALPS: Juliana Hatfield and Nada Surf's Mattew Caws drop "Far From The Roses."
DUMPTRUCK: "Back Where I Belong."
MY BLOODY VALENTINE's Kevin Shields suggests Britpop was a government conspiracy.
PHOENIX is profiled by the Nashville Scene.
ST. VINCENT's TOP 10, according to Stereogum.
PUNK IS DEAD: BuzzFeed presents the evidence.
CUTOUT BIN: From Frank Sinatra to Echo & The Bunnymen, from Stevie Wonder to Thomas Dolby, from Bobby "Blue Bland" to They Might Be Giants, plus Marty Robbins, Chameleons UK, Bruce Springsteen & The E Street Band, The Kinks and more -- this Friday's fortuitous finds are streaming from the Pate page at the ol' HM.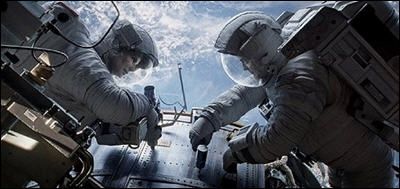 NOW SHOWING:This weekend's wide releases are Gravity, which is currently scoring 98 percent on the ol' Tomatometer; and Runner Runner, which is scoring 13 percent.
GRAVITY is decribed by a number of reviewers as a thriller. And it has a number of suspenseful sequences, if you can suspend disbelief for the implausible event that sets it in motion. It looks and sounds great (aside from some overdone musical moments, the sound design was top-notch in Atmos). Yet Gravity never reached escape velocity for me on a popcorn movie level, because writer-director Alfonso Cuaron attempts a deeper exploration of the theme of facing death. That's laudable, and to the extent it largely works, it does so on the strength of Sandra Bullock's performance. (George Clooney plays Clooney, though someone with his star power was probably necessary for the role.) The film did not completely work for me to the extent that the characterizations are too economical, occasionally verging on ham-fisted. As someone who often finds recent films longer than they really need to be, I would normally cite an 84 minute running time as a plus. But here I wonder whether another 10 min of exposition upfront wouldn't have made Gravity a better movie. It's a good attempt at two types of movie, good enough to be annoyed that it's not truly great at either.
MILEY CYRUS gets unsolicited advice from Sinead O'Connor.
BRITNEY SPEARS claims she's under a lot of pressure to make hyper-sexual music videos. Spears' dad/conservator and her manager deny pressuring her.
LAMAR ODOM says he's been sober for 5 days and believes he can maintain sobriety without going to rehab.
BARBARA SINATRA doesn't think Roma Farrow is Frank's kid.
TIM BURTON: Caught canoodling on camera with a mystery blonde.
PAUL GIAMATTI talks to Collider about The Amazing Spider-Man 2 (and more), Downton Abbey, merlot and more.
NORTH KOREA: The Yongbyon nuclear complex, which was shut down in 2007, appears to have started up again, according to a US research institute.
SYRIA: Russia backed a UN Security Council statement urging Syria to allow more humanitarian relief into the country.
IRAN: The head of Iran's Cyber Warfare command was found dead in a woods outside Karaj over the weekend. He had been assassinated at close range.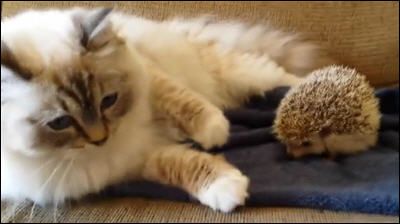 A CAT sits on a HEDGEHOG.
A MOUNTAIN LION moves into DC.
CHINESE DEATH HORNETS: The average one grows to 2.2 inches in length.
500 MINKS escaped their farm in rural Abbotsford. It's the upscale version of 101 Dalmatians.