THE LONG WEEKEND STARTS HERE:
...with POWER POP! A few of these may be well-known generally, like Cheap Trick's "Way of the World" and Nick Lowe's "Cruel to Be Kind"... and some well-known to fans of the genre, like Dwight Twilley's "I'm On Fire," Shoes "Too Late," The Records' "Starry Eyes," the Flamin' Groovies' "Shake Some Action" and the Plimsouls' "A Million Miles Away" (seen here in a rare live TV slot). Others are well-known to longtime Pate fans, like the Three O'Clock's "Her Head's Revolving" or Let's Active's "Waters Part."
BLACK LIPS stopped by WFUV's Studio A for a chat and mini-set.
LYKKE LI stopped by WFUV's Studio A for a chat and mini-set.
TIMBER TIMBRE played a Tiny Desk Concert at the offices of NPR
WARPAINT played a mini-set from their 2014 self-titled album, recorded Live in the KEXP studio.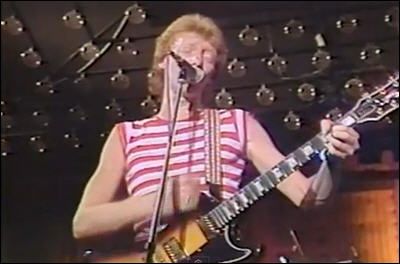 BRAM TCHAIKOVSKY: "Girl Of My Dreams" and "Lady From the USA", live. Because it's Power Pop Friday, of course.
SHARON VAN ETTEN gets a meaty interview and profile at Stereogum.
CONOR OBERST & LORDE discuss their writing styles, navigating the industry and being wowed by each other.
NME had musicians select 101 Bucket List albums.
F----ED UP: The name is a marketing challenge.
JACK WHITE talks Meg White.
CUTOUT BIN: From Devo to the Spinners, from Ozzy Osbourne to Sandie Shaw, from Wire to the Beastie Bots, plus the Pretenders, Wreckless Eric, the Tubes, Michael Jackson and more -- this Friday's fortuitous finds are streaming from the Pate page at the ol' HM.
NOW SHOWING: This weekend's wide releases are -- X-Men: Days of Future Past, currently scoring 93 percent on the ol' Tomatometer; and Blended, scoring 13 percent.
X-MEN: DAYS OF FUTURE PAST is one of my favorite runs of one of my favorite comics. The film could not be made to match it and remain a mass entertainment. Indeed, Fox has already deviated from the X-Men canon enough that you could not film this series verbatim. Moreover, Fox has simply not done as well by its Marvel properties in general as Marvel Studios has. Accordingly, I entered the theater with equal measures of anticipation and dread. I am happy to report that, as a mass entertainment, X-Men: Days of Future Past is better than I expected and quite probably the best film of the franchise, in part because it assumes you have seen the prior four movies and thus starts from a deeper level (I suspect those who have not seen them may find themselves a bit lost at times). Some of the new deviations in this film are for understandable commercial purposes and one serves a theme not present in the original (and verges on dopey, but I can live with it). There are also some timeline problems arising from the attempt to construct a coherent timeline, but this isn't much more bothersome than the issues attendant to almost any movie involving time travel. (Oddly, untl watching this as a film, I hadn't realized the basic story is an inversion of a classic time travel plot.) The cast here sprawls from the first three installments to the prequel (X-Men: First Class), and throws in new characters for good measure; the Fox version of one such figure is likely much removed from the version we have seen/will see in the next Avengers movie, and yet provides comic relief for a summer tentpole. Peter Dinklage is also great fun to watch as Bolivar Trask...and someone else. There are a number of action set pieces, but I credit the current creative team for letting the characters drive the plot and not resorting to the the destruction of another CGI city. And if you wanna know what the new future holds for our merry mutants, stick around to the end of the credits.
BRYAN SINGER, director of X-Men: DOFP, filed a motion to dismiss the sexual assault case against him for lack of jurisdiction.
CHARLIE SHEEN and RHIANNA are having an online feud. Two rounds so far.
KATHARINE McPHEE , the American Idol finalist and star of Smash and the upcoming CBS drama Scorpion, has officially split from her husband, Nick Cokas.
ELIN NORDEGREN talks Tiger Woods for the first time since their split.
THE FLASH has a five-minute trailer online.
LIFE ITSELF: The trailer for the documentary about Roger Ebert is online.
UKRAINE: Sixteen people were killed an attack overnight on soldiers in Ukraine's eastern Donetsk region, local health officials said, in the latest spike in violence ahead of the weekend's presidential election.
RUSSIA has pulled off a major political coup by securing a landmark 400 billion dollar natural gas agreement with China, a move that will come as a blow to US efforts to isolate the Kremlin.
VENEZUELA: Blame it on the World Cup. That's what Venezuelan President Nicolas Maduro is doing to explain why airlines are slashing flights to the crisis-plagued South American nation.
NIGERIA: The UN added Boko Haram (a.k.a. Jama'atu Ahlis Sunna Lidda'awati wal-Jihad) to its list of al Qaeda-linked terrorist groups, stating that it is an affiliate of both al Qaeda and its north African offshoot, al Qaeda in the Islamic Maghreb. The designation noted that Boko Haram is also associated with Ansaru (a.k.a. Jama'atu Ansarul Muslimina Fi Biladis-Sudan). The UN said Boko Haram members have trained with AQIM, fought in Mali, conduct attacks and kidnappings in Nigeria and Cameroon, and operate also in Chad and Niger. France vowed to treat Boko Haram like al Qaeda.
QUINCY loves a road trip.
A FEARLESS CAT climbs mountains and treks through desert valleys.
A BORDER COLLIE helps train horses.
SNAKE MASSAGE? Hey, it's free.