THE CINCO DE MAYO WEEKEND STARTS HERE:
...with LOS LOBOS: "I Got Loaded" (with an added snippet of "Turn On Your Lovelight") from their fabulous first full-lengther, How Will the Wolf Survive? "Don't Worry Baby," "Evangeline," "Our Last Night," and "A Matter of Time" were on that album, too.
PEE WEE HERMAN: "Tequila." Obvs.
HERB ALPERT & THE TIJUANA BRASS: Rare video of "A Taste of Honey" from 1967.
CHEAP TRICK brings you the Mariachi mash-up of "Surrender."
JIMMY BUFFETT: Margaritaville. Obvs.
LIZ PHAIR: "Cinco de Mayo." Obvs.
SHARON JONES, MIKE McCREADY, ALYNDA LEE SEGARA & MESHELL NDEGEOCELLO talk about what makes them go.
PATRICK STICKLES of Titus Andronicus defends Lily Allen and disses Courtney Love.
LYKKE LI is profiled in the latest Pitchfork cover story.
TELEVISION's coolest and weirdest musician cameos.
CUTOUT BIN: From Paul Westerberg to the Hollies, from The Clash to The Association, from the Minutemen to the Supremes, plus Aztec Camera, the Four Seasons, Bob Mould, R. Dean Taylor and more -- this Friday's fortuitous finds are streaming from the Pate page at the ol' HM.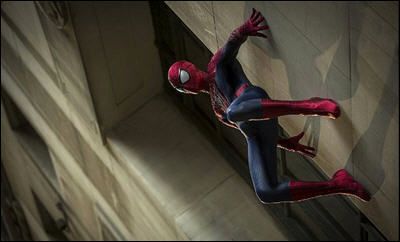 THE AMAZING SPIDER-MAN 2 is this weekend's sole wide release, currently scoring 56 percent on the ol' Tomatometer. And as I was on record as suggesting the reboot of this franchise was mostly about a cash grab (and it is), I should say I actually preferred this one to the last one, though: (a) this is a fairly low bar; and (b) I think this would put me in a distinctly minority position if I was an actual film critic (Note: The original averaged 6.7/10 on RT; this one to date is at 6/10; that smaller gap juxtaposed against a much wider difference in overall Tomatometer suggests this one is more polarizing). I'm also on the record as being predisposed against the multiple-villain sequel, but unlike a number of critics who find the result jumbled, I think this script sequences things to (mostly) avoid the overstuffed effect you get from other sequels. The script also handles its characters fairly well, although Electro's backstory is a bit too Batman Forever-level of ham-fisted. The script also returns to more of the core themes of the Spider-Man comic, i.e., the personal toll being Spider-Man takes and how the characters (and we) deal with loss. And the reboot series continues to exploit the more comic tone Spidey often displays in the books, moreso than the original Sam Raimi-directed films (though I would still take his first two over the two reboots). Given how premature the reboot is, this film succeeds--to the extent it does--on the strong chemistry of its cast, particularly Andrew Garfield and Emma Stone. And in that context, the script makes one particularly brave choice, though not one surprising to old skool comic book nerds. So count me as pleasantly, but not enthusiastic...and now with more reason to think another Spidey will disappoint as much as Spider-Man 3.
ROB FORD: The Toronto Mayor's latest spiral into substance abuse began on St. Patrick's Day and has a Justin Bieber cameo.
GEORGE CLOONEY proposed over a home-cooked meal. Aw.
SAMUEL L. JACKSON is catching flak from adult video performers.
JOSH HARTNETT talks about his hiatus from Hollywood.
ELIZABETH OLSEN is profiled by Marie Claire.
PEACHES GELDOF: Heroin is "likely" to have played a role in her death, an inquest has revealed.
JASON PRIESTLEY is dishing on his 90210 co-stars, Brad Pitt, and others in a new book.
FHM'S 100 SEXIEST WOMEN OF 2014 is just in time for Gratuitous Friday.
UKRAINE: Pro-Russian activists and Ukrainian riot police clashed Thursday inside the compound of the prosecutor's office in the eastern city of Donetsk, as simmering tensions escalated into violence. Ukraine's acting President Olexander Turchynov has reinstated military conscription to deal with deteriorating security in the east of the country.
VENEZUELA: Authorities have arrested a suspect in the mysterious murder of a Venezuelan ex-intelligence chief, Eliezer Otaiza, who had close personal ties to the late President Hugo Chavez.
NIGERIA: A negotiator for the Boko Haram militants who have kidnapped over 200 schoolgirls said the kidnappers are demanding a ransom and that the military knows their location; some reports said the girls had been taken to Chad or Cameroon. Protests demanding the girls' release have spread since their abduction on April 14.
A HUNGRY MONKEY slaps a teasing TV host.
WHEN GOATS ATTACK: On the evening of 19 April, the goats broke free and walked all over a neighbor's Ford Focus in Richmond, Maine.
AN OX charges through a hospital in Rio.
NAME THAT ANIMAL: Dizzy Canadians Don't Even Know What Kind Of Adorable Tiny Animal They're Bottle-Feeding.