A GREAT LIGHT HAS GONE OUT:
LOU REED, iconic songwriter best known for "Walk On The Wild Side" and co-founder of the Velvet Underground, has died at 71 of liver disease. The Rolling Stone obituary is also worth reading in its entirety, but if you are going to assert the VU was "the most influential American rock band of all time" -- quite arguably true -- how can you omit the Brian Eno riff that the first Velvet Underground record sold 30,000 copies in the first five years, but everyone who bought one of those 30,000 copies started a band. RS is also right to emphasize that Reed chronicled the seamy underbelly of the 60s in songs like "I'm Waiting For The Man," "Heroin," and the sadomasochistic "Venus In Furs," but two further observations are in order. First, Reed tackled these subjects without romanticizing them the way that, say, Jim Morrisson did, which partially accounts for why the hippie demographic never really embraced the VU (East Coast/West Coast rivalry also played a part). Second, from the outset, Reed was equally adept at songs that were pretty when light, like "Sunday Morning," or "Femme Fatale," and beautiful when deeper, as on "I'll Be Your Mirror," the latter two unforgettably rendered by teutonic chenteuse Nico. Although FM radio would eventually admit latter-day Velvets tracks like "Sweet Jane" and "Rock And Roll" into the classic rock canon, Reed and the VU generally went unrewarded; decades later, he and fellow Velvets Mo Tucker and Doug Yule would speak at the NYPL about how the industry hated them, among other topics.
The RS obit also names glam as one of the genres it is difficult to imagine without him; that's true as far as it goes; Reed's live Rock N' Roll Animal set, powered by the twin axes of Dick Wagner and Steve Hunter, was a recurring favorite at the Music Works even when I was in college a decade later. But Cameron Crowe was equally correct to argue that during his glam period, "he's trying to be Bowie, but he should just be himself." It was as himself that Lou Reed had his impact on a slew of bands, including -- but by no means limited to -- The Cars, R.E.M., The Ramones, The Feelies, Echo & the Bunnymen, Sonic Youth, Yo La Tengo, Cowboy Junkies, and The Jesus & Mary Chain. (Online reax gathered here.) The best of these were influenced as much by Reed's almost-coversational lyrical honesty as by his musical minimalism. I don't mean to slight Reed's later solo achievements, particularly The Blue Mask, New Sensations, and New York, but RS covers them pretty well. I would only add I saw Reed on the New York tour and he was rock solid, with The Feelies as the opening act. BONUS: "The Ostrich," from the pre-Velvets Primitives. DOUBLE BONUS: How Lou Reed inspired anti-communist revolutionaries like Vaclav Havel. TRIPLE BONUS: The PBS American Masters special on Reed. QUAD BONUS: Lou Reed, Live at the Paramount Theater, April 24, 2008.
SWEARIN' advance streams Surfing Strange.
MIDLAKE advance streams Antiphon.
LUSCIOUS JACKSON advance streams Magic Hour.
CUT COPY advance streams Free Your Mind.
KNICKERBOCKERS: "Lies." Someday you're gonna be lonely.
LOS CAMPESINOS! singer Gareth David tells Weekend Edition the tone of the band's new album, No Blues, reflects a step in a more optimistic direction.
BASIA BULAT talks to the HuffPost about recording Tall Tall Shadow.
PETER HOOK relives the troubled legacy of Joy Division and New Order.
THE ELEPHANT 6 COLLECTIVE gets a history at Paste.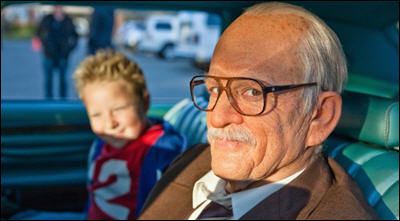 WEEKEND BOX OFFICE: Jackass Presents: Bad Grandpa tops the chart with 32 million -- big enough to dethrone Gravity, if not as big as prior Jackass flicks.Even so, a nice opening against a 15 million budget. Gravity finally sinks to place with 20.3 million -- but that's an exceptional figure for a film after four weekends. Currently at 199.8 million domestic, Gravity will become the first to break 200 million in October. Captain Phillips shows with 11.8 million on a mere 28 percent drop -- but it will need those legs to break 100 million domestic. Of course,if the competitionremains like No. 4 film The Counselor, which debuted with 8 million and a terrible "D" Cinemascore from audiences, Hanks has a chance. Cloudy With a Chance of Meatballs 2 clings to the bottom of the Top 5 with 6.1 million, continuing to make free money from the lack of competition for the family audience. Below the fold, the Carrie remake sinks to sixth, though it may get a lift from Halloween this week. Also, 12 Years A Slave (which I reviewed last week) takes the eighth slot, despite being on only 123 screens.
CHRIS BROWN was arrested on a felony assault charge in Washington D.C. on Sunday for allegedly attacking a man outside the W Hotel.
MARCIA WALLACE, whose four-decade television career included playing the receptionist on "The Bob Newhart Show" and Bart's fourth-grade teacher on "The Simpsons," has died.
CHRISTINA RICCI married her boyfriend James Heerdegen in NYC on Saturday.
KIM KARDASHIAN will be given away by Bruce Jenner, despite his separation from Kim's mother (who just got ripped by the normally docile Access Hollywood).
JULIANNE HOUGH caught flak for going blackface for her Halloween costume. Orange Is The New Black; blackface not so much.
EGYPT: A complaint against former interim vice president Mohamed el Baradei for "betrayal of trust" was dismissed.
LIBYA: Assailants tried to kill the deputy head of crime prevention in Benghazi and wounded his brother; the two men are cousins of the city's recently assassinated military police chief.
AFGHANISTAN: A news report found that the staff of the US' inspector general for Afghanistan will be unable to visit sites in 80 percent of the country in 2014, so that monitoring of billions of dollars' worth of US-funded reconstruction projects will be delegated to private contractors.
IRAQ: Al Qaeda is once again setting its sights on Anbar province.
SYRIA: Opposition sources said at least 15 Hezbollah fighters were killed in the Damascus suburb of Ghouta. Kurdish YPG forces clashed with the Islamic State of Iraq and the Sham, the Al Nusrah Front, and rebels in Raqqah and in Hasakah, and took over the Tal Kawjar crossing on the Iraqi border from ISIS, which had held it for months. ISIS attacks killed at least seven regime soldiers in Hama. A regime colonel of military intelligence died of injuries in Homs.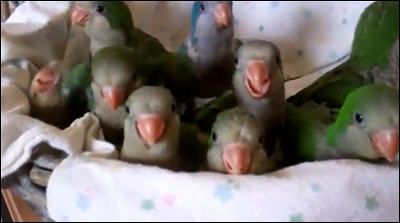 BABY QUAKER PARROTS are excited for a meal.
THE SQUIRREL THREAT: A militant rodent roaming a community college in northern Iowa has become the No. 1 suspect in a vandalized bicycle incident.
A BRACE OF DUCKS wandered into a CVS in Saratoga Springs.
MOUSE vs SCORPION: Who you got?