PATE REUNION: Jon, Mike & Jon (and we hope Ron) will be retaking a stage somewhere near Iowa State University on July 5th, 2013, just one short decade after their last reunion gig. Clear your calendar for something transcendent, a train wreck, or both! If you're on the Facebook, check in with the event page.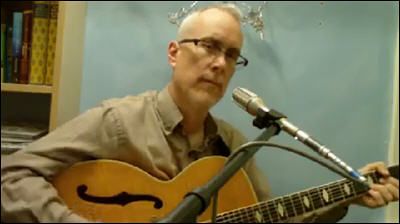 JON PRATT rehearses the Pate deep cut, "It's A Crime," to prep for the reunion.
IRON & WINE: Sam Beam stops by WNYC Soundcheck for an unplugged set.
JAMIE LIDELL played solo, with the help of a table full of electronics, live in the WNYC Soundcheck studio.
THE VEILS visit the KEXP studios and perform a set of tunes from the album "Time Stays, We Go."
PALMA VIOLETS stop by The Current for a chat and mini-set.
GRANT HART drops "Is The Sky The Limit?" and "Letting Me Out" ahead of The Argument, a double album based on John Milton's epic poem Paradise Lost. I think I prefer the latter track, but ymmv.
QUEENS OF THE STONE AGE dropped "I Sat By The Ocean" and "If I Had A Tail" on Belgian radio.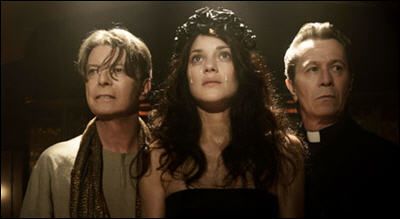 DAVID BOWIE brings in Gary Oldham and Marion Cotillard for "The Next Day," which is likely NSFW.
PATTI SMITH talks to L.A. Weekly about Banga, her memoirs, and more. (Thx, LHB.)
ELEANOR FRIEDBERGER talks to Stereogum about making her Personal Record, her upcoming "full band" tour, and the vague future of Fiery Furnaces.
THE MARS VOLTA gets a retrospective from PopMatters.
1963: The Guardian looks back at the year that would define rock and pop music for the next 50 years.
BRITNEY SPEARS confirms she's doing a Vegas residency.
CHRIS & LUKE HEMSWORTH staged an intervention to end brother Liam's engagement to Miley Cyrus.
JENNIFER LAWRENCE photobombs Sarah Jessica Parker at the 2013 Met Gala in NYC.
MICHAEL JACKSON was a "monster" and sexual abuser, according to the lawyer for famed choreographer Wade Robson. Jacko's estate calls the claims outrageous and pathetic.
NICK LACHEY says the best part about being divorced from Jessica Simpson is that he no longer has to play grabass under the table with Creepy Papa Joe.
ROBERT DOWNEY JR. is looking for Tony Stark money to reprise his Iron Man role. Will the Mouse pony up?
WYNONA RYDER was told she was not pretty enough to be an actor.
MOROCCO: A prominent Salafist preacher issued a takfir fatwa against Moroccan human rights activist Ahmed Assid for suggesting that religious school textbooks could lead youth to violence, and called for Assid to be 'silenced.'
ALGERIA: The opposition Islamist Movement for a Peaceful Society party chose hardliner Abderrezak Mokri as its new leader during the fifth party congress, held over the weekend in Algiers. The congress was attended by Islamist leaders from Algeria, Tunisia, Libya, Syria, Egypt, and the Palestinian group Hamas.
LIBYA: A veteran diplomat gave a riveting minute-by-minute account of the lethal terrorist attack in Benghazi, Libya, last Sept. 11 and described its contentious aftermath in nearly five hours of testimony at a charged Congressional hearing that reflected the weighty political stakes perceived by both parties.
IRAQ: Keeping silent on terrorist groups and failing to co-operate with security forces is prohibited under sharia law, a number of Iraqi clerics said.
CATMAN: Duhnuh nuhnuh nuhnuh nuhnuh...
TAPEWORMS burrowed into the brain of a British volunteer in Madagascar. The penguins are still cute, though.
MAYBE THE BEAR ate your monkey.
THE GIANT SNAILS invade Houston.