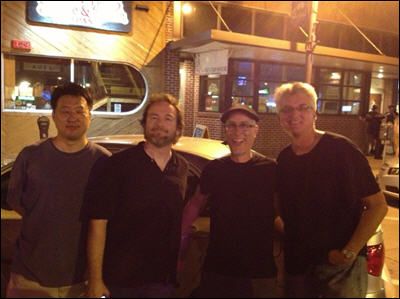 (Ron Hahm, Mike Kelly, Jon Pratt, and Jon Hahn, after the load-out. Photo by or for Ken King)
CLAUDE PATE REUNION WEEKEND: Great times and great shows, with only minor injuries and no arrests. Playing both all-ages and 21+ shows resulted in some duplication of sets, but with Ron Hahm and Jon Hahn swapping the drum throne for different feels (and in the case of "She's So Special," a different arrangement) on these tunes. In addition to fan favorites like "Chalk It Up To Fate," "Rope Around The Moon" "You Must Be Dreaming" and "If You Will, I Will," and All The Fixins tracks like "A Matter of Dos" (or is it "Dues?") and "Heartache Junkies," the band also dipped deep into the Pate catalog for numbers not heard at the 2003 reunion, including "I'll Be Your Man," "Tell Me Now," "Runaway," "Drivin'" and "Eye On Everything." That last song produced a quintessential Pate moment, in which Jon Pratt, wielding his axe in full-on hard-rock mode, eliminated what was surely to be a scorching solo by accidentally stepping on his electronic tuner. Of course, not every Pate moment carries the whiff of Spinal Tap. The third set ended with a particularly fine version of "Gone Electric" that caused Friend of Pate Susan Jasper -- who did yeowoman's duty hosting we out-of-towners -- to ask, "Is that the best bass line ever?" It may be, though it may be the person who suggested Mike Kelly is a better bassist than ever is correct. The evening almost concluded with an alternately scorching and hilarious version of "My Turn" (ten years down, indeed), but the crowd (and it was a crowd) convinced them to encore with an unrehearsed but raucous rendition of The Yardbirds' "For Your Love." Special thanks also to Doug Hansen for running the soundboard and monitoring the recording gear at Whiskey River.
Of course, for Friends of Pate, the shows were only part of the attraction. Reconnecting with college pals at the pre-show picnic, between sets or at the Perkin's after-party was also a treat for many of us, by which I mean me. I would call it Big Chilling, but someone reminded me we're all ten years older than those characters. Sigh. At the risk of inadvertently omitting anyone not already mentioned, it was terrific to see the O'Neills, Fitzgeralds, Fryzeks, and Cravens, as well as Regina Escue, Charlie Vanek, and Ken King (who rode shotgun with me for dramatic readings from the late Scott Miller's wonderful book "Music: What Happened?"). It was also great to see how well everyone's kids are turning out (though in the case of the band, I'm going to credit Naomi, Elizabeth and Judy). I will single out only Jon P's daughters because I joked that joining Facebook (to administer the Pate page) and seeing them suddenly ten years older was a depressing reminder of my own age. In reality, all three seem to have grown into charming young women (though I only got to chat briefly with the eldest about some things Baltimore). Catching them singing along at the first show was particulalrly fun, and Jon tells me they can sing, referring to them as the Von Engle-Trapps. It seems that Jon and Naomi successfully executed the Ron Burgundy plan. Let's not wait another decade for the next one, m'kay?
HEBRONIX: The former Yuck man is advance streaming Unreal.
MAYER HAWTHORNE is advance streaming Where Does This Door Go?
SPEEDY ORTIZ is advance streaming the 90s flavored Major Arcana.
JODY STEPHENS: The remaining Big Star visited Morning Becomes Eclectic to promo a new documetary about the band and to play some classics with Luther Russell and Jason Hiller.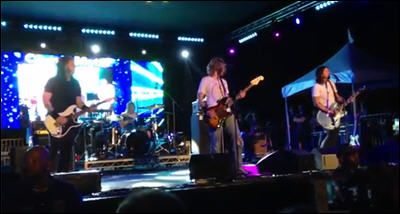 CHEVY METAL: Dave Grohl joined the rest of this Foo Fighters side project to cover Queen's "Under Pressure." Grosse Pointe Blank fans know this is another good one for Pate Reunion Weekend.
LOU REED reviews Kanye West's Yeezus.
CAMERA OBSCURA bassist Gavin Dunbar talks to Straight about recording Desire Lines in Portland.
JASON EVERMAN was kicked out of Nirvana and Soundgarden. Then he became an elite member of the U.S. Army Special Forces, one of those bearded guys riding around on horseback in Afghanistan fighting the Taliban.
TOM ROBINSON and Nick Mobbs recall the making of "Glad to be Gay" for The Guardian.
WEEKEND BOX OFFICE: Despicable Me 2 rules the cineplex with 142 million over the long weekend, greatly exceeding tracking estimates around 100 million. Against a 76 million budget, this is another smash for Universal. The Lone Ranger places a distant second of 49 million against a 215 million budget, which is the sort of July 4th flop not seen since Wild Wild West. Given that example, and the competition from the Despicable sequel, it was sheer hubris of Disney to try this; they now reap the whirlwind. The Heat shows with 25 million and an 86 million total against a 43 million budget. Monsters University drops to No. 4, with 19 million -- a 57 percent drop that constitutes Despicable Me 2's second shot to the Mouse. World War Z rounds out the Top 5 with 18.2 million and a 158.8 million domestic total against a 190 million budget. Below the fold, White House Down sucks wind, Man Of Steel continues to show weak legs and Kevin Hart pulls in 10.1 million against a 750K budget.
KERRY WASHINGTON married San Francisco 49ers corner back Nnamdi Asomugha.
ELISHA CUTHBERT married Dion Phaneuf, defensemen and captain of the Toronto Maple Leafs hockey team, on Saturday, July 6.
GEORGE CLOONEY is said to be back on the market once more after reportedly splitting from girlfriend Stacy Keibler.
NIGELLA LAWSON is getting divorced by multi-millionaire art collector Charles Saatchi.
EMMY ROSSUM: The "Shameless" star has split with her co-star Tyler Jacob Moore after dating for two years, sources tell Page Six.
LINDSAY LOHAN will return to NYC after rehab, accoring to her mother.
KATY PERRY & JOHN MAYER were snapped wearing matching outfits on July 4th, in case you thought they couldn't be more frightening.
SETH MEYERS is engaged to marry longtime girlfriend Alexi Ashe.
JAMES GANDOFINI's will is a tax disaster.
LIBYA: Hundreds of demonstrators from across the country gathered in Algeria Square in Tripoli to protest the influence of armed unofficial militias. The Interior Ministry is still under siege by a militia.
SYRIA: The rebel Syrian National Coalition chose a new leader, Ahmad Assi Jarba, a Syrian dissident with close ties to Saudi Arabia; he has previously been charged with obtaining arms for the Free Syrian Army.
EGYPT: Prominent Sunni cleric Yusuf al Qaradawi issued a fatwa calling on Muslims to support ousted former president Mohammed Morsi. Egypt's president backed away from naming Mohammed el Baradei as prime minister.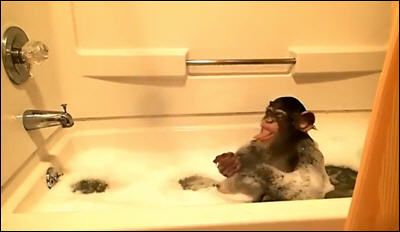 CHLOE THE CHIMP takes a bath.
A CHIMP and LYNX, living together... mass hysteria!
FEARLESS MICE on Magic Mushrooms.
COCKATOOS pick locks to reach their reward.