THE LABOR DAY WEEKEND STARTS HERE:
...with CHEAP TRICK, live at ChicagoFest '81! Your set list includes: "Stop This Game," Hello There," "I Want You to Want Me," "On Top of the World," "Reach Out," "Baby Loves to Rock," "Gonna Raise Hell," "Dream Police," "Ain't That a Shame," "Surrender," "Just Got Back," "Day Tripper" and "Goodnight." You can access the individual songs from the link, or let the whole thing roll.
ROKY ERICKSON is advance streaming The Evil One.
BABYSHAMBLES advance streams The Sequel To The Prequel.
CAGED ANIMALS advance streams In The Land Of Giants.
THE HEAVY brings it to KEXP for a mini-set featuring songs from their third studio album The House That Dirt Built.
FRANKIE ROSE covers The Damned's "Street Of Dreams" with 80s gloss.
LOS CAMPESINOS! drops "What Death Leaves Behind" ahead of No Blues.
PAUL McCARTNEY drops a "New" song. It's jaunty.
TONY MOLINA brings the lo-fi power pop on "Breakin' Up." Yum!
FIRST CLASS: "Beach Baby" may fall into that category of summer song Oliver Wang once described "tinged with fragility and marked by melancholy." It's even more true of the long version, with those French Horns and choral vocals in the c-section...
LET'S DANCE: How success spoiled -- and saved -- David Bowie.
LOU BARLOW talks Sebadoh and Dinosaur, Jr at Rolling Stone.
THE CHARLATANS' Tim Burgess remembers the late Jon Brookes.
ISLANDS: Nick Thorburn talks to BlackBook about stage names, former bands, mushrooms and Charles Dickens.
CUTOUT BIN: From Journey to Primal Scream, from Feist to Funkadelic, from Sam Cooke to Divine Fits, plus the Rolling Stones, Beach Boys, Material Issue,Ween, Monkees and more -- this Friday's fortuitous finds are streaming from the Pate page at the ol' HM.
NOW SHOWING: This weekend's wide releases include One Direction: This Is Us, which is currently scoring 62 percent on the ol' Tomatometer; Getaway, currently scoring the big 00; and Closed Circuit, which opened near-wide on Wednesday with 42 percent.
FERGIE & JOSH DUHAMEL welcomed their first child on Thursday... and named him Axl. Yes, really.
JAMIE-LYNN SIEGLER and her fiancé Cutter Dykstra welcomed a son named Beau.
VALERIE HARPER's brain cancer is "pretty close" to remission.
CLINT EASTWOOD and his wife separate after 17 years of marriage.
JAMES SPADER will play Ultron, the titular villain in Avengers 2.
THE SUPERMAN/BATMAN movie will shoot in Detroit, which will save on all that destroying-the-city CGI.
KIM JONG UN's ex-girlfriend was among a dozen well-known North Korean performers who were executed by firing squad on Aug. 20.
BRITISH Prime Minister David Cameron lost a vital parliamentary vote on Thursday night meant to pave the way for Britain to join a looming military strike on Syria, in a move that appeared to all but rule out British involvement in such action.
SYRIA: With the United States appearing close to launching a retaliatory attack for Syrian President Bashar Assad's alleged use of nerve gas last week, defense and diplomatic analysts are cautioning that the expected "surgical" strike will likely be symbolic and fall far short of eliminating Syria's chemical capabilities.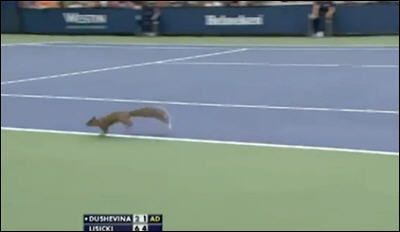 THE SQUIRREL THREAT: A militant rodent disrupted the US Open.
A WALKING SHARK was discovered off the coast of Indonesia. Candygram...
FERAL PIG GLUT in TEXAS to be culled by... Ted Nugent.
THE SWARM attacked 10k runners in Spofforth.