THE WEEKEND STARTS HERE: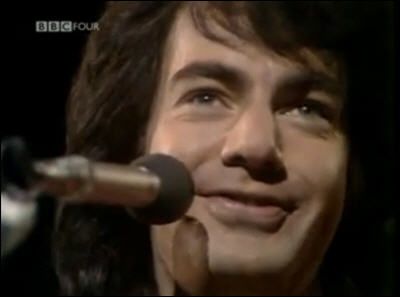 ...with NEIL DIAMOND! There are two types of people, you know. But here's Neil on the Beeb in 1971. Your set list: "Sweet Caroline," "Solitary Man," "Cracklin' Rosie," "Done Too Soon," "A Modern Day Version Of Love," "He Aint' Heavy (He's My Brother)," "Holly Holy," and "Brother Love's Traveling Salvation Show." Sadly, "I Am I Said" is off the Tube right now, but here's a contemporaneous German clip.
BRANDI CARLILE advance streams By The Way, I Forgive You.
FISCHERSPOONER advance streams Sir.
THE LOW ANTHEM advance streams The Salt Doll Went To Measure The Depth Of The Sea.
LAURIE ANDERSON & THE KRONOS QUARTET advance stream Landfall.
I'M WITH HER advance streams See You Around.
THE EELS share the jaunty "Today Is The Day."
DOBIE GRAY is in with "The In Crowd."
DEADBEAT CLUB: The B-52s tour Athens in 1989.
TELEVISION: Marquee Moon turns 40.
THE BREEDERS' new official bio is really an essay by Neil Gaiman.
MICKEY JONES, the drummer for Dylan's Royal Albert Hall gig, and Kenny Rogers and the First Edition, before going on to a significant acting career, has died at the age of 76.
NOW SHOWING: This weekend's wide releases are Fifty Shades Freed, which is currently scoring 12 percent on the ol' Tomatometer; Peter Rabbit, which is scoring 64 percent; and Clint Eastwood's The 15:17 to Paris, scoring 20 percent.
VENOM, starring Tom Hardy, dropped a teaser trailer online.
KATE UPTON elaborates on alleged sexual harassment by Guess co-founder Paul Marciano.
DIANE KRUGER talks about being choked by Quentin Tarantino for Inglourious Basterds.
JOAQUIN PHOENIX is in talks to play The Joker.
ALICIA VIKANDER talks Tomb Raider with Vogue.
OPRAH WINFREY confirmed she's not running for President.
A DOG snagging a pancake starts a house fire.
A TIGER CUB is not suitable to be mailed, not even express mail. The More You Know. Swoosh.
A "SUPPORT HAMSTER" was killed by an air passenger told she couldn't bring it onboard.
JUST A DEER, getting some drive-thru fries.