THE BANGLES, "Going Down to Liverpool," with Leonard Nimoy.
MATTHEW E. WHTE advance streams Fresh Blood.
THE DISTRICTS stopped by The Current for a chat and mini-set.
EMMY THE GREAT performs in the WNYC Soundcheck studio.
THE ACORN drops "Influence" ahead of Vieux Loop.
THE LEFT BANKE: "Walk Away Renee."
JIMMY PAGE gave an oral history of "Kashmir" to The Guardian.
JESSICA PRATT talks to American Songwriter about her move to Drag City.
TWENTY ROCK MEMOIRS That Don't Hold Back.
TEN SONGS YOU DIDN'T KNOW WERE WRITTEN ABOUT CELEBRITIES....according to...The Onion.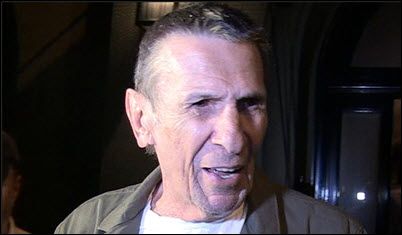 LEONARD NIMOY, the sonorous, gaunt-faced actor who won a worshipful global following as Mr. Spock, the resolutely logical human-alien first officer of the Starship Enterprise in the television and movie juggernaut "Star Trek," died on Friday morning at his home in the Bel Air section of Los Angeles. He was 83. The NYT obit omits his run on Mission: Impossible and his great turn in the 70s version of Invasion of the Body Snatchers. The obit gives you his cover of "If I Had a Hammer," but not his take on "Ruby, Don't Take Your Love To Town." The affection for Nimoy is apparent in the WaPo's jump headline for his obit there, and this billboard in South Carolina.
WEEKEND BOX OFFICE: Focus tops the chart with 19 million -- below the low side of estimates and well short of the 35 million Will Smith used to average. It truly is After Earth for the Not-So-Fresh Prince. There's a race for te rest of the slots that won't be fully sorted until the actual receipts are counted: Kingsman: The Secret Service has an estimated 11.8 million, a seemingly leggy showing that likely puts it in the black worldwide. The SpongeBob Movie: Sponge Out of Water has an estimated 11.2 million and also looks profitable at this point. Fifty Shades of Grey has an estimated 10.9 million on a 51 percent drop; wildly profitable, but droping quickly--playing like the Twilight fanfic it originally was. The Lazarus Effect rounds out the Top Five with an estimated 10.6 million, which is likely fine against a 3.3MM budget.
LUPITA N'YONGO: Her stolen Oscars dress was returned under odd circumstances.
MICHELLE RODRIQUEZ caught flak for criticizing minorities getting white superhero riles in Hollywood.
TAYLOR SWIFT talked to the Telegraph about her cultural weight, the future of LPs, celebrity friendships, and so forth.
CINDY CRAWFORD says a recent leaked photo of her was doctored to make her look haggard.
NORWAY: A radical Islamic preacher has been arrested in Norway after praising last month's deadly attack on the Charlie Hebdo satirical weekly in Paris, police said Friday.
RUSSIA: Former PM and prominent opposition figure Boris Nemtsov was killed just a few hours after a radio interview in which he denounced Putin's "mad, aggressive" policies and the day before he was to help lead a rally protesting Russia's actions in the Ukraine crisis and the economic crisis at home.
SYRIA: Kurdish forces dealt a blow to Islamic State by capturing an important town on Friday in the latest stage of a powerful offensive in northeast Syria, a Kurdish militia spokesman said.
IRAQ: The U.S. military's goal to retake Iraq's second largest city from the self-proclaimed Islamic State has been pushed back several months at least, defense officials told The Daily Beast.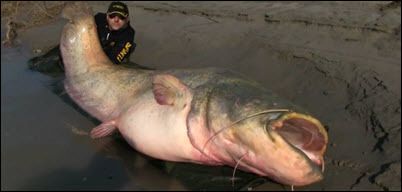 A 280-LB CATFISH, caught with a rod and reel. Bigger boat not required.
BABY RABBITS listed for sale on Craigslist as "imperfect snake food" are on the road to recovery, thanks to a group of rescues that stepped in to save them.
BEAR ATTACKS have quadrupled in Florida.
THE PUYA CHILENSIS is a plant that traps and eats sheep.