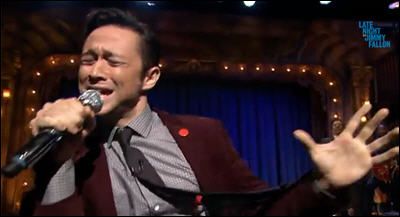 JOSEPH GORDON-LEVITT, STEPHEN MERCHANT & JIMMY FALLON engage in a lip-sync battle of the ages.
YUCK is advance streaming Glow and Behold.
BLITZEN TRAPPER is advance streaming VII.
SHARK? is advance streaming Savior.
RED HOT + FELA: tUnE-yArDs, Childish Gambino and Jim James are among those paying tribute the late co-founder of Afrobeat.
LEE RENALDO & THE DUST drops "Ambulancer."
MADONNA is having a secretprojectrevolution. It's brilliant...as comedy.
PEARL JAM: Eddie Vedder talks morality and tabloid pop at Rolling Stone.
THE STONE ROSES are working on a new album says Mani.
FRANKIE ROSE talks to Stereogum about her colorful past, her exciting present, and what she hopes to be doing by the time she gets around to making album No. 10.
THE 10 ESSENTIAL SHOEGAZE ALBUMS, other than Loveless.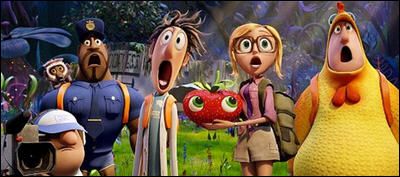 WEEKEND BOX OFFICE: Cloudy With a Chance of Meatballs 2 tops the chart at 35 million -- about 5 million more than the original and 5 million less than outside projections.This one cost 78 million, substanially less than the 100 million of the original, which helps ensure a profit once the worldwide receipts and home video money rolls in. Prisoners places with 11.3 million on a 46 percent drop, which is steep, though maybe not surprising given the dark subject-matter; it's close to recouping the production budget here, and is just getting rolling abroad, where Jackman will bring in the money. Rush shows with 10.3 in its expansion, a tiny bit below projections, though the studio likely wished for a number closer to Argo's 19-20 million range. A movie about Formula 1 racers is likely to do better biz overseas, but Ron Howard would almost certainly like this to have enough legs for Oscar nominations. Baggage Claim debuted at No. 4 with 9.3 million on the strangth of the African-American market. Don Jon rounds out the Top 5 with 9 million, about 2 million less than projections. It may not be leggy either, because the TV marketing couldn't tell people what was in the movie, which likely results in mediocre word-of-mouth. Even so, it may make 25 million here and match that overseas, making for a tidy profit on a 6 million budget... and an even bigger profile for wrire-director-star Jospeh Gordon-Levitt.
LAMAR ODOM is reportedly dropping huge cash on an anniversary gift for Khloe Kardashian, who dropped "Odom" from her Twitter handle.
KANYE WEST says he's got the goods to get at least one of the photogs who showed up at his house prosecuted.
RACHEL LEIGH-COOK has welcomed a baby boy with husband Daniel Gillies.
ALANIS MORISSETTE is being sued by her former nanny.
ADELE may play Dusty Springfield in a biopic.
NATALIE PORTMAN kinda has a fan crush for Jennifer Grey.
SYRIA: Syrian rebels, including al Qaeda-linked fighters, captured a military post near the Jordan border. The Free Syrian Army reported heavy regime shelling yesterday along the border, where some 69,000 refugees are said to be trapped. Western officials said US and Israeli intelligence agencies think that Syria's chemical arms declaration may be incomplete, as Syria named some 30 sites but there are believed to be over 50. The Islamic State of Iraq and the Levant ordered schoolchildren in a village in northern Syria to wear Islamic dress.
KENYA: The government said it is "at war" with Shabaab, and tried to address reports that it had received intelligence warnings before the Westgate Mall massacre that Shabaab was likely to attack in Nairobi.
IRAQ: AL Qaeda in Iraq killed six people in attacks in Tarmiyah and Baghdad that targeted police and military personnel and their families. Security forces captured two al Qaeda leaders during raids in Baghdad and Ninewa.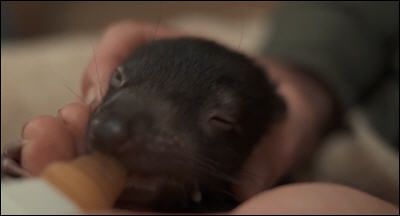 BABY TAZMANIAN DEVILS: Let's go to the video.
A MONITOR LIZARD is suspected of eating a cat named "Boo Boo."
TERMITES have a secret weapon: poop.
LITTLE HUMPHREY is a kitten rescued from a near-death experience.