DAVID BYRNE joined ANGELIQUE KIDJO on "Once In a Lifetime" at Carnegie Hall.
PWR BTTM advance streams Pageant.
LA SANTA CECILIA advance streams Amar Y Vivir.
ALL SONGS CONSIDERED: New tracks from Feist, Beth Ditto, Frankie Cosmos and more.
DEEP STATE shares "Mountains."
THE STEVENS share "Chancer."
PAUL McCARTNEY: "Birthday."
AT THE DRIVE-IN is profiled at The Record.
CAN'T HELP FALLING IN PRICE: Why Elvis memorabilia is plummeting in value.
C'EL REVUELTA, who joined Black Flag in 1986, replacing bassist Kira Roessler for the band's final tour, has died after being diagnosed with a stage four glioblastoma brain tumor last July.
A "WORST SONGS EVER " LIST from Pittsburgh radio listeners. Which is not to say that some moments do not demand them.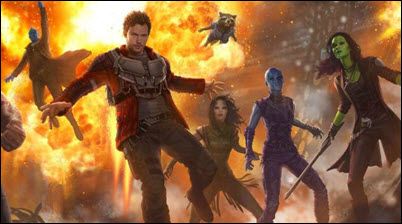 WEEKEND BOX OFFICE: Guardians of the Galaxy Vol 2 easily dominated the chart with 145MM, right within the ballpark of projections. It also has almost twice as much in foreign receipts to date.It should double it's domestic take, but the original had huge legs in part because it was an August release; there will be much stiffer competition up against this sequel. The Fate of the Furious places with 8.2MM on a 57 percent drop, but breaks 200MM domestic as it piles up well past a billion worldwide. The Boss Baby shows with another 6.2M; with 435MM worldwide, DreamWorks animation has to be happy with its first hit in a while. How To Be a Latin Lover takes the fourth slot with 5.3MM on a 57 percent drop; its 20MM domestic gross is probably fine against a reported 10MM budget. Beauty and the Beast rounds out the Top Five with another 5MM added to its ginormous total. Below the fold, note that Baahubali 2: The Conclusion was in the Top Ten for a second week, perhaps the first Indian movie to do so, while Gifted looks like a profitable arthouse release.
DUNKIRK drops a likely final trailer online.
CHRIS PINE pays musical tribute to Movie Heroes Named Chris.
CHRIS ROCK revealed in a comedy routine he cheated on his ex-wife with three different women; was Scandal star Kerry Washington one of them?
TWIN PEAKS Still the Most Visually Striking TV Show Ever?
PRINCE HARRY & MEGHAN MARKLE canoodle after polo.
BLOOD DRIVE: Syfy goes Grindhouse!
BOB WILSON, Luke and Owen's Dad, has passed away.
NORTH KOREA directly challeges China for the first time.
DON'T LASSO A SHARK: It ends badly. The More You Know. Swoosh.
ZEBRA vs TRUCK: Who You Got?
A DEER was caught gnawing on human remains and the end is nigh.
AN ATTEMPTED GOATNAPPING was foiled in Minnesota.