BROKEN SOCIAL SCENE returned in force, bringing "Halfway Home" To Colbert.
RYAN ADAMS stopped by World Cafe for a chat and mini-set.
STRAND OF OAKS: Tim Showalter played a solo mini-set at The Current.
MASTADON streams Empire of Sand. Not generally my genre, but they do it well.
THE LEES OF MEMORY share a slice of classic psychedelia titled "When The Roses Bloom."
NOEL HARRISON explores "The Windmills Of Your Mind."
FATHER JOHN MISTY is profiled by Paste.
DAVID R. DYE, stepping down as host of World Cafe, lists his 25 favorite albums over the past 25 years.
SUFJAN STEVENS and his fascination with outer space.
THE 20 GREATEST MOTOWN SONGS, according to NME. Hard to believe I missed this.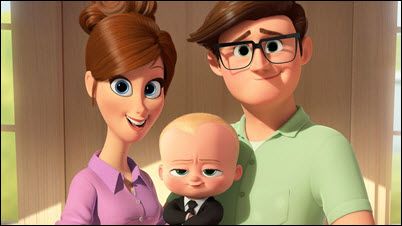 WEEKEND BOX OFFICE: The Boss Baby tops the chart with 49MM and 108MM total worldwide, probably just good enough for a movie that cost 125MM before marketing but wasn't very well-reviewed. A good enough haul to have Beauty and the Beast place despite another 47.5MM domestic and a worldwide total of 876.3MM. The debut of Ghost in the Shell showed with 19MM, which has to be disapointing for ahaevily marketed film topped by one of Hollywood's biggest action stars. Power Rangers drops into fourth with 14.5MM on an expected heavy skid of 64 percent. Kong: Skull Island rounds out the Top Five with another 8.8MM on another leggy 40 percent drop, which gives hope of profiting on the big screen given its strong overseas numbers.
THE MUMMY: Universal's latest reboot has a second trailer online.
DUNKIRK has five new TV spots running.
ALEC BALDWIN opened up about his past battle with alcoholism and drug addiction in an interview on Good Morning America.
BRANGELEXT: People are saying Brad Pitt seems happier and thinner.
AMBER HEARD claims she's a victim of sexploitation via body double.
DAVID SPADE & NAYA RIVERA are dating, apparently.
GAVIN ROSSDALE has taken up with a 27-year-old model, as rock musicians do.
A-ROD gushes over J-LO.
PAMELA ANDERSON downplays rumors she's seeing Wikileaks' Julian Assange.
SINBAD won April Fool's Day.
VENEZUELA: On the instructions of President Nicolás Maduro, Venezuela's top court on Saturday walked back its attempt to incapacitate the country's opposition-controlled parliament, following widespread condemnation across the Americas.
SAUDI ARABIA is still believed to be seeking nuclear weapons technology in a bid to counter the threat posed by Iran's nuclear program, which continues to operate in an advanced manner despite the landmark nuclear agreement, according to a new report by a proliferation monitoring organization.
RUSSIA: Police in Moscow detained 29 anti-corruption protesters who took to the streets on Sunday in a follow-up of last week's large-scale demonstrations in the Russian capital, according to a Reuters witness.
CATS RING BELLS for treats: Sorta like lab rats, but cuter and classier.
PABLO ESCOBAR's ESCAPED HIPPOS: Can the dangerous animals be stopped from taking over more territory?
A BLACK BEAR appears to carry his laptop out of the woods, where I would expect the wi-fi is spotty.
MANATEES will be downgraded from "endangered" to "threatened" under the Endangered Species Act.