BLEACHED shares a video for "Flipside." Because who cares what's on the flipside? I do.
ROBYN HITCHCOCK stopped by The Current for a chat and mini-set.
LAMBCHOP, Live at the Bowery Ballroom, March 30, 2017.
MARK EITZEL plays a mini-set for KEXP.
BECK covers "Can't Help Falling In Love With You" for The Man in the High Castle soundtrack.
MARVIN GAYE: "Got To Give It Up."

THURSTON MOORE talks to The Guardian about letting ideas gestate in his head, doing weird things to guitars and being galvanized by a new producer.

PRINCE's death thrust the opioid epidemic further into the spotlight. A year later, questions about his death linger.

THE ROCK & ROLL HALL OF FAME induction ceremonies had many stories, including Steve Perry meeting his successor in Journey.

PAUL O'NEILL, the founder of Trans-Siberian Orchestra, a progressive metal band known for spectacular holiday concerts filled with theatrics, lasers and pyrotechnics, was found dead in his hotel room in Tampa, Fla., on Wednesday. He was 61. The band said in a statement that Mr. O'Neill died from an unspecified "chronic illness."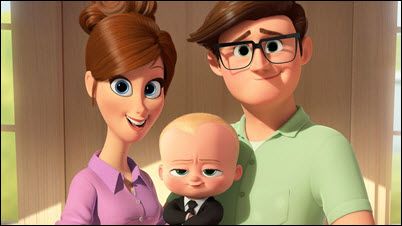 WEEKEND BOX OFFICE: The Boss Baby repeats atop the chart with another 26.3MM on a steep-for-animation 48 percent drop (though it's not unprecedented for Dreamworks animation). Then again, it faced still-stiff competition from Beauty and the Beast, which placed with 25MM on a 45 percent drop. Indeed, it also faced weaker competition from Smurfs: The Lost Village, which took in 14MM domestic against a 60MM production budget. But the blue things took in another 42MM in foreign markets, and the first two were so profitable, it's hard to see even a flop bothering the stuido, though this could easily still make a profit in theaters before reaching the home market. The remake of Going In Style debuted in fourth with 12.6MMagainst a 25MM budget, which may be just fine, insofar as senior-oriented comedies from Grumpy Old Men to Last Vegas have been pretty leggy counter-programming to the tentpoles and blockbusters. Ghost In The Shell rounds out the Top 5 with 7.4MM on a steep 63 percent drop, despite a lack of competition before the arrival of The Fate of the Furious next weekend. It doesn't look like foreign markets will save ScarJo either, unless China and Japan come in yuge for it.
CARRIE FISHER will make an appearance from beyond the grave in the final Star Wars movie of the new trilogy, her brother Todd Fisher tells Confidential.
JANET JACKSON has split from her billionaire husband just months after giving birth to her first child at the age of 50.
BRADLEY COOPER & IRINA SHAYK welcomed their first child two weeks ago.
OLIVIA MUNN & AARON RODGERS have broken up after 3 years of dating. Or, as the Chicago Tribune put it, "Olivia Munn and Boyfriend."
MEGHAN MARKLE, who has been dating Prince Harry for several months, announced Friday that she has shut down her lifestyle website.
BIJOU PHILLIPS recuperates from a kidney transplant.
HARRY SHEARER wrote an op-ed for Rolling Stone explaining the import of his Spinal Tap lawsuit for all creators.
JOHN WICK: Understanding The John Wick Economy.
A WILD TURKEY imitates Frogger in Massachusetts.
A 12-FT PYTHON turned up in the yogurt refrigerators.
A HORSE unzips a woman's hoodie. Don't ask how he learned.
A BAT is not a suitable salad condiment. Unless you're Ozzy Osbourne.