THE MEMORIAL DAY WEEKEND STARTS HERE:
...with THE SWEET! The bubble-glam rockers are probably best known for the trifecta of "Little Willy," "Ballroom Blitz" and "Fox on the Run," though they also charted with the harder-edged "Action" and the more ballad-y "Love is Like Oxygen." All of those clips also feature the band's rather unique fashion sense, but you have to see the clip for "Wig Wam Bam" -- complete with headdress -- to see the band at its most ridiculous. BONUS: "All That Glitters" is a BBC documentary originally broadcast in February 1974 charting a day in the life of The Sweet.
LUNA: Live at the Granada Theater in Dallas on May 4.
PAUL SIMON advance streams Stranger To Stranger.
FEAR OF MEN advance streams Fall Forever.
ROBERT ELLIS advance streams a self-titled fourth album.
WILLIAM TYLER advance streams the instrumental LP Modern Country.
KAREN MEAT advance streams their On The Couch EP.
SPOON debuted "I Ain't The One" in Mexico City.
DINOSAUR JR shared the first single "Tiny," from Give A Glimpse Of What Yer Not.
T. REX: "20th Century Boy." Aow!
CAR SEAT HEADREST: Will Toledo talks to Flavorwire about adulthood after a dozen albums.
ELTON JOHN: Ten of His Best.
BAT FOR LASHES: Natasha Khan talks to The Guardian weddings, flower crowns and why festival-goers should forget social media and get into the spirit.
WHICH ROCK STAR Will Historians of the Future Remember?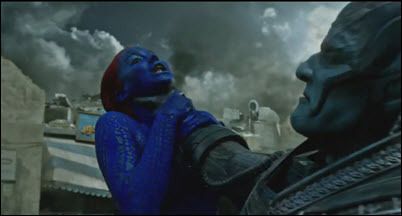 NOW SHOWING: This week's wide releases are X-Men Apocalypse, currently scoring 49 percent on the ol' Tomatometer; and Alice Through the Looking Glass, scoring 26 percent.
X-MEN APOCALYPSE works well-enough on the level of summer popcorn movie, I suppose. This installment of the mutant franchise probably works the best when it taps into the history of the franchise -- and it is thus a bit odd in retrospect that much of the emotional core here revolves around Magneto (a villain) primarily, and Mystique (an antihero) secondarily. The retcon begun in Days of Future Past (or arguably First Class) continues here in the 80s and we get mileage out of character re-introductions as well as the occasional period joke (including one at the expense of Last Stand). Indeed, if you liked the Quicksilver set piece in the last installment, you'll like the one here also. But its perhaps telling that perhaps the most gripping action schene revolves around an extended cameo than the tableaus of of global destruction that we've become perhaps to accustomed to seeing at the cineplex these days. And it probably suffers from coming out so close to Captain America: Civil War, where Marvel has fuller creative control and we get more out of the deft ways characters get mined even in a scene where characters cook, or hang out in a bedroom, than in a CGI money shot.I'm not down on this film which is perhaps only a notch below First Class or Days of Future Past. But as Marvel Studios keeps raising the bar, the folks at Fox may have to work harder to keep their Marvel films up to snuff.
JOHNNY DEPP & AMBER HEARD's relationship was extremely bitter due to a full-blown feud between his family and Amber ... and this, TMZ claims, is the backdrop for what is already an acrimonious divorce. Heard's camp denies this. Depp is asking the judge to reject Amber's claim for spousal support.
COREY FELDMAN talks to THR about missing Corey Haim, addresses the "dark side" of pal Michael Jackson that led to their estrangement, and warns of the "growing, not shrinking" dangers of internet-era child predators in Hollywood.
JAILED BY THE BELL: Former Saved by the Bell star Dustin Diamond is back in jail in Wisconsin after an official says he violated the terms of his parole.
KIM KARDASHIAN & KANYE WEST have threatened their former blabbermouth bodyguard with a 30MM lawsuit.
A SAUDI CLERIC does not approve of selfies with cats.
CHINA is poised to send submarines armed with nuclear missiles into the Pacific Ocean for the first time, arguing that new US weapons systems have so undermined Beijing's existing deterrent force that it has been left with no alternative.
THE ISLAMIC STATE is preventing civilians from leaving the besieged western Iraqi city of Fallujah as the country's security forces advance on the radical Islamist stronghold, the U.N. said on Thursday.
RUSSIA has accused Turkey of supplying the Islamic State extremist group with components for improvised explosive devices.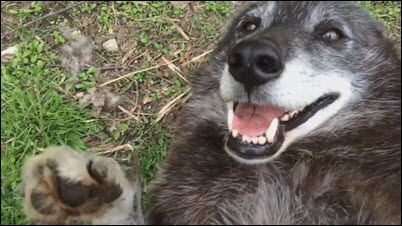 LAKOMI THE WOLF: This my not end well, but very cute at the moment.
THAT MICRO-PIG turned out not to be.
BABY TURTLES communicate through their egg shells.
AN ALLIGATOR took a swim at the YMCA of Beaufort County, NC. (Thx, Nathan, who added: "You can get yourself clean and get a good meal at the same time.")