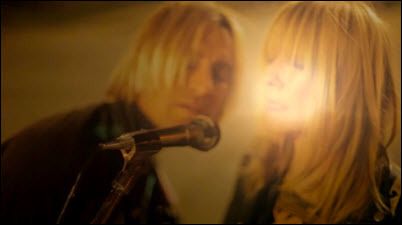 GLITTERBUST: Kim Gordon's latest drops "The Highline."
ERIC BACHMANN (Archers of Loaf, Crooked Fingers) advance streams a self-titled LP.
MARGO PRICE advance streams Midwest Farmer's Daughter.
THE THERMALS advance streams We Disappear.
BELAVE, ft fmr Magical Cloudz frontman Matthew E. Duffy, streams Indigo, Streams, Lash.
FRIGHTENED RABBIT dropped "Lump Street" before its Painting Of A Panic Attack.
THE EXCITERS: What's a bear doing in the video for "Tell Him"? I have no idea.
PAUL McCARTNEY has begun proceedings to reclaim his share of Beatles' publishing royalties in the US.
ROBYN HITCHCOCK talks to Eugene Mirman about America, comedy, Bowie, and just what it is about cover songs that make him such a master of the form.
KRISTIN WELCHEZ talks to Stereogum about her evolution from a Dum Dum Girl to the dence-oriented Kristin Kontrol.
THE GRATEFUL DEAD gets a 59-track tribute set, organized by The National and featuring a cst of dozens.
WEEKEND BOX OFFICE: Zootopia threepeats atop the chart with 38MM, a leggy performance and one that lacks any animated competition for another month. It's the best 3rd weekend for an animated flick evah and is already closing in on 600MM worldwide. The Divergent Series: Allegiant places with 29MM; the first two installments both opened over 50MM, so this is going to hurt. Miracles From Heaven showed with 15MM (18MM since its Wed opening), which should be fine against a 13MM budget headed into Easter weekend. 10 Cloverfield Lane takes the fourth slot with 12.5MM; its 45MM domestic total probably puts this 15MM budgeted flick into profit before overseas grosses. Deadpool rounds out the Top 5 with 8MM; only Batman v Superman will stop this one from beating The Passion of the Christ's 317MM R-rated record.
X-MEN: APOCALYPSE drops another trailer online, probably the best so far.
CARICE VAN HOUTEN & GUY PIERCE are expecting their first child together.
AMBER HEARD has been cast as Mera, the undersea queen and wife of Aquaman in The Justice League Part One.
MAZE RUNNER star Dylan O'Brien was hit by a car and suffered multiple injuries on the set of the franchise's upcoming sequel The Death Cure.
JOE SANTOS, who played Lieutenant Dennis Becker on The Rockford Files, has died at 84.
LARRY DRAKE, best known for his Emmy-winning role as a developmentally disabled character on the television drama L.A. Law, was found dead on Thursday at his home in Los Angeles. He was 67.
CHINA: The United States has seen Chinese activity around a reef China seized from the Philippines nearly four years ago that could be a precursor to more land reclamation in the disputed South China Sea, the U.S. Navy chief said on Thursday.
CUBA cracked down on political dissenters as Pres Obama arrived on the island.
PARIS terror attack suspect Salah Abdeslam was captured alive Friday, a Belgian counter-terrorism source said. Belgium's state broadcaster reported that the 26-year-old Abdeslam was injured in a shootout that ended with his capture.
SYRIAN PEACE TALKS hit their first logjams, as disputes erupted over the composition of delegations to the talks and a Kurdish call to form a federal Syria with a semi-autonomous Kurdish region in the north of the country.
IRAQ: The US announced on Sunday it will put more troops on the ground in Iraq after a Marine was killed in an ISIS rocket barrage and plans move forward to retake the major city of Mosul from the armed group.
A MONKEY watches a magic trick.
THIS MALE SPIDER mutilates its partner after sex so it can never mate again.
A LION that escaped from Nairobi National Park wandered around the Kenyan capital on Friday and attacked a man, resulting in his hospitalization.
A DOG who fell off a fishing boat in the Pacific Ocean and had been "presumed dead" more than a month ago has now been found alive by Navy officials on an island 80 miles off the coast of San Diego, California.