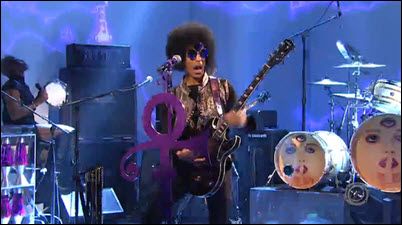 PRINCE & 3RDEYEGIRL played an eight-minute medley of new material on SNL.
PITCHFORK PARIS: If you hurry, you may still be able to stream sets by Belle & Sebastian, St. Vincent, Foxygen, and Future Islands.
MARIANNE FAITHFULL advance streams Give My Love To London.
DAMIEN RICE advance streams My Favourite Faded Fantasy.
HOOKWORMS advance stream The Hum.
BEDHEAD advance streams 1992-1998, a four-disc box set.
SHE & HIM cover Sinatra's "Time After Time."
THE NEW BASEMENT TAPES drop "When I Get My Hands On You" sung by Marcus Mumford.
OF MONTREAL backed actor Paul Rudd and actor-director David Wain on Boston's classic "More Than A Feeling."

BRUCE SPRINGSTEEN talks books at The New York Times.

THE TWILIGHT SAD takes Drowned In Sound on a track-by-track tour of their new LP.

SIOUXSIE & THE BANSHEES: The Guardian lists 10 of their best.

NIRVANA: UNPLUGGED IN NEW YORK turns 20. Gett Off My Lawn.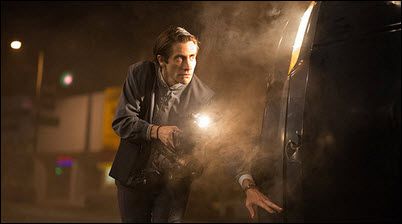 WEEKEND BOX OFFICE: Nightcrawler tops the chart with 11 million, typical for Jake Gyllenhaal, but really good for a serious pic released on Halloween, particularly against an 8.5 million budget. Ouija places with a photofinish 10.9 million on a 45 percent drop. Fury shows with 9.1 million and has yet to recop its budget domestically, but has started over seas with another 32 million. Gone Girl stays leggy in the fourth slot with another 8.8 million and a 136 million total (and slightly more than that overseas). The Book of Life rounds out the Top 5 with some Halloween help, reaping 8.3 million on a 17 percent drop.
BIRDMAN is playing on only 230 screeens, so let me set it up a bit. Michael Keaton plays an actor who once starred incominc book movies in the 1990s. Sound familiar? He's now looking to write, direct, and star in a Broadway adaptation of a Raymond Carver story. Edward Norton plays his co-star, a mercurial method actor not above trashing a project that's not living up to his high standards. Sound familiar? They're both terriffic, along with the female leads, played by Naomi Watts and Andrea Riseborough (Oblivion), who may share the film's biggest laugh line. Indeed, this film is filled with sharp performances, including Emma Stone as Keaton's daughter, fresh out of rehab and working as his assistant, and Zach Galifianakis in a largely straight role as Keaton's lawyer/producer. And then there is the camera, which serves as its own character, as the movie was shot in a series of continuous takes and presumably stitched together in a computer. It's an audacious tactic, one of manyundertaken by director and co-writer Alejandro González Iñárritu, previously known for heavier fare like 21 Grams, Babel, and Biutiful, but here produces a film that's equal parts backstage dramedy, magical realism, and commentary on the culture of celebrity.
AMANDA BYNES lost the fight against her conservatorship.
TOM HIDDLESTON's Loki will feature heavily in the new batch of Marvel films recently announced.
JENNIFER LOPEZ needs some alone time right now.
HALLE BERRY's ex claimed he couldn't get modeling jobs after her new bofriend beat him up.
NICHELLE NICHOLS' companion had a suitcase full of meth.
IRAN: The head of the United Nations nuclear inspection organization declared Friday that Iran had stopped answering the agency's questions about suspected past efforts to design the components of a bomb.
QATAR has joined the American-led coalition to fight Islamic State, yet the emirate is a haven for anti-Western groups and foreign diplomats have reported seeing cars with Islamic State logos in an affluent bay district.
THE ISLAMIC STATE: U.S.-led airstrikes and steadily strengthening forces in Iraq are containing advances by the Islamic State of Iraq and Syria, but are by no means destroying it, experts told Al Arabiya News.
SYRIA: More than 1,000 foreign fighters are streaming into Syria each month, a rate that has so far been unchanged by airstrikes against the Islamic State and efforts by other countries to stem the flow of departures, according to U.S. intelligence and counterterrorism officials.
IRAQ: The past few weeks, the Islamic State group has been hunting down former policemen and army officers in areas it controls, apparently fearing they might join a potential internal Sunni uprising against its rule.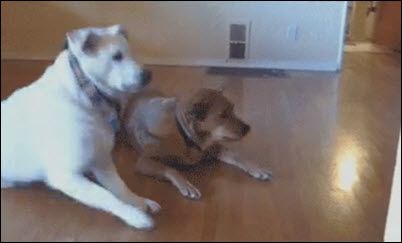 THE BOSS IS COMING: Look busy.
A FUGITIVE's DOG leads police right to him.
BLACK BEARS brawl in a New Jersey neighborhood.
THE SQUIRREL THREAT went Halloween.