THE WEEKEND STARTS HERE:
...with THIN LIZZY! Remember that chick who used to dance a lot? Here's Phil Lynott & Co. live at the Sydney Opera House in 1978, playing "Jailbreak," "Bad Reputation," "Cowboy Song," "The Boys Are Back In Town," "Waiting For An Alibi," and "Are You Ready?"
THE ALLAH-LAS stopped by Morning Becomes Eclectic for a session.
PHOX stopped by The Current for a chat and mini-set.
TORI AMOS stopped by The Current for a chat and mini-set.
STRAND OF OAKS stopped by WFUV Live for a chat and mini-set.
KENNY ROGERS & THE FIRST EDITION: "I Just Dropped In (To See What Condition My Condition Was In)." Yeah. Yeah. Oh, Yeah.
RUFUS WAINWRIGHT talks to The Guardian about his love for Obama, lyrical oversharing and how he has no memory of his guest appearance in Absolutely Fabulous.
LOS CAMPESINOS! Gareth managed to find the one bright spot on an otherwise intolerable "alternative" radio channel.
BOBBY WOMACK: The late soul legend's label unearthed an unseen interview.
25 SONGS THAT SHOULD NEVER BE COVERED, according to NME. They start with "Stairway to Heaven," a song now the subject of a copyright lawsuit. Hmm.
THE CUTOUT BIN: From the Jam to Steely Dan, from the Grass Roots to the Psychedelic Furs, from Led Zeppelin to The Church, plus Cher, the New York Dolls, 999, Marvin Gaye and more -- this Friday's fortuitous finds are streaming from the Pate page at the ol' HM.

NOW SHOWING:This weekend's wide releases include: Teenage Mutant Ninja Turtles, currently scoring 17 percent on the ol' Tomatometer; Into the Storm, currnetly scoring 9 percent; Step Up All In, scoring 53 percent; and The Hundred-Foot Journey, scoring 58 percent.
KRISTEN STEWART talks to Elle about her career, fame, and not smiling for the camera.
LARRY DAVID is headed to Broadway.
CHRISSY TEIGEN is funny. But that's not why Esquire did the photo spread.
LINDSAY LOHAN ignoring texts from sober friends?
TRUE DETECTIVE creator Nic Pizzolatto rejects claims of plagarism.
ISRAEL: Rockets from Gaza hit Israel early Friday morning, breaking the cease-fire, according to the Israel Defense Forces.
SYRIA: The Islamic State killed over 40 people in three suicide bombings at one of the regime's last remaining bases in Raqqah; clashed with tribal gunmen in Deir Izzour, where it also executed 18 employees of the sharia council who had been guarding oilfields for the Al Nusrah Front, the Islamic Front, and rebels; and clashed with the Islamic Front, regime forces, and Kurdish YPG forces in separate battles in Aleppo.
LIBYA: Demonstrators in Misrata protested against the new government. The commander of Operation Dignity's air forces confirmed its support of the new government, noting that a number of its jets are based in Tobruk. Prime Minister al Thinni and the head of US Africa Command agreed to try to speed up training of Libyan military forces.
IRAQ: President Obama announced he has authorized "targeted" air strikes if necessary to protect American interests in Iraq from insurgent forces that are taking over the country's northern cities. US forces also airdropped humanitarian aid to help a group of 40000 Yazidis, a group of ethnic Kurds, who fled villages in northern Iraq under threat from ISIS. Militants from the Islamic State group seized Iraq's largest hydroelectric dam on Thursday, giving them control of enormous power and water resources and leverage over the Tigris River that runs through the heart of Baghdad.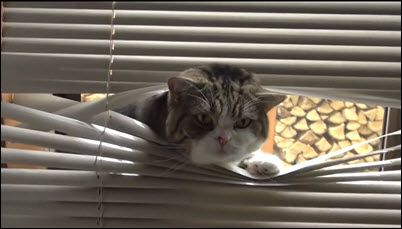 MARU: The box cat discovers window shades.
CROCODILE vs BULL SHARK: Who you got?
A MACAQUE is at the center of a copyright dispute with Wikimedia.
RATS ON A PLANE ground a flight in India.