THE WEEKEND STARTS HERE:
...with MICHAEL JACKSON! I'm not making a habit of this, but he did die 5 years ago this week, making it an apt moment to revisit his hits with the Jackson 5, like "I Want You Back," "ABC," "The Love You Save" and "Never Can Say Goodbye," and solo hits like "Don't Stop 'Til You Get Enough," and "Billie Jean," which not only broke the color barrier at MTV, but also ushered in an era of big-budget videos that may have peaked with the John Landis-directed "Thriller," the title track of the mega-seller that also spawned smashes like "Beat It."
THE AFGHAN WHIGS stopped by WFUV's Studio A for a chat and mini-set.
SAINT PAUL & THE BROKEN BONES stopped by The Current for a chat and mini-set.
JENNY LEWIS performs in the WNYC Soundcheck studio.
MIKE KOZELEK is advance streaming Live at Biko.
IAN McLAGAN stopped by The Current for a chat and mini-set.
WOODS drops the garage-psychedelic "Tomorrow's Only Yesterday" as a B-side.
FIELD MOUSE drops "Everyone But You" ahead of Hold Still Life.
WILD CHERRY: "Play That Funky Music." It's what they do.
DAVID CROSBY, GRAHAM NASH, photographer Joel Bernstein, and recording engineer Elliot Mazer talk to the Wall Street Journal about the 1974 CSNY tour.
G-L-O-R-I-A! Dave Barry explains why it's the Best Song Ever.
FIELD REPORT: Chris Porterfield talks to Stereogum about the substance abuse, spirituality, and similes behind their sophomore LP, Marigolden.
EXTENDED PLAY: NME lists 50 must-have EPs.It's missing The Replacements' Stink.
CUTOUT BIN: From Vince Guaraldi to Led Zeppelin, from Prince to Husker Du, from the Go-Gos to Nick Drake, plus Billy Bragg, the Beach Boys, the Cookies and more -- this Friday's fortuitous finds are streaming from the Pate page at the ol' HM.
NOW SHOWING: Transformers: Age of Extinction is this weekend's sole wide release, currently scoring 15 percent on the ol' Tomatometer.
ROB KARDASHIAN'S family wants Rob to get help for what they say is a very bad drug problem ... sources directly connected with the family tell TMZ.
LINDSAY LOHAN is confirmed to star in Speed The Plow. All the notoriously tardy leading lady has to do now is turn up on time for eight shows a week.
SHIA LaBEOUF was escorted out of Roundabout's production of Cabaret at Studio 54 during the show's intermission in handcuffs. At least he's not in the new Transformers pic.
SHAILENE WOODLEY: Vanity Fair has outtakes from her interview with the mag.
ZOE SALDANA: Pregnancy rumors.
UKRAINE is entering into a trade agreement with the European Union today that has already sparked a rebellion, toppled a president and ignited an armed conflict with pro-Russia separatists. As a shaky cease-fire in the east entered its final hours Thursday, thousands of Ukrainians in cars stuffed with belongings lined up at the border to cross into Russia, some vowing never to return.
VENEZUELA: Already grappling with street protests led by the right, Venezuelan President Nicolas Maduro is facing a new threat from an unlikely place: old-school leftists who accuse him of betraying the socialist legacy that carried him to power.
IRAQ has bought used fighter jets from Russia and Belarus to battle Islamist militants after long delays in the delivery of F-16 planes from the U.S. left troops without air support. Prime Minister Nouri al-Maliki said Thursday that Syrian warplanes targeted militants earlier this week on the Syrian side of the Iraqi-Syrian border. The Islamic State of Iraq and the Sham took control of the town of Mansouriyat al-Jabal and a nearby oil field. A suicide bomber killed 19 people in Baghdad. The military claimed it killed 32 ISIS fighters in airstrikes in Tikrit and in Anbar. Is an ISIS caliphate no more than a pipe dream?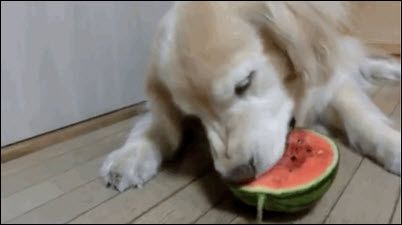 COCO-CHAN eats corn and watermelon. And plays with her food.
A BLACK BEAR crashes a kid's birthday party. Literally.
EARTHWORMS invade Alberta.
UM, YEAH: A zoo in Switzerland is the latest to be embroiled in controversy, after it not only killed a healthy bear cub but will now stuff and display it to teach children that "nature can be cruel."