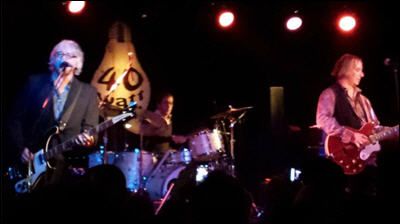 MIKE MILLS & BILL BERRY joined PETER BUCK onstage at the 40 Watt Club to perform REM's 1984 single "(Don't Go Back To) Rockville." Looks like Scott McCaughey, too. (Photo via Tommy Warren / ‏@bigwheat.)
SHEARWATER advance streams Fellow Travelers. Each of its 10 songs pays tribute to an artist with whom the band has toured.
BILL CALLAHAN, live from at a historic synagogue in Washington, DC.
JIMMIE DALE GILMORE stopped by KUTX to play a couple.
WASHED OUT stopped by WFUV's Studio A for a mini-set.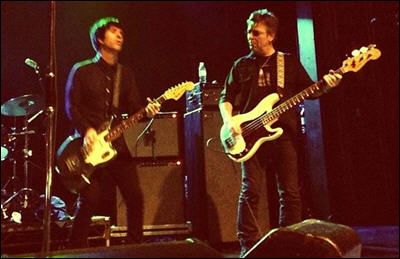 ANDY ROURKE joined JOHNNY MARR on The Smiths' "How Soon Is Now?" and "Please, Please, Please Let Me Get What I Want." It's Partial Reunion Monday, ahead of Twofer Tuesday. (Photo via doorsixteen on Instagram.)
THE ZOMBIES discussed Odessey and Oracle and played a few on the BBC, way back in May. New to me, though.
ANDREW WK & MARKY RAMONE talk about touring together at The Independent.
ROY HARPER, who sang on Pink Floyd's "Have a Cigar" and was paid tribute on Led Zeppelin's "Hats Off to (Roy) Harper", has been charged with sexually abusing a girl from the age of 12, during the mid-70s.
BILLY SQUIER: The King of Hip-Hop?
NOW SHOWING: Thor: The Dark World tops the chart with 38 million, on a reasonable-for-a-sequel 55 percent drop. That's 147 million to date domestic, with another 333 million overseas. But the real story may be The Best Man Holiday placing with 30.6 million -- part of a very good year for African American-centric films. All the better against a 17 million budget (tho not so good for 12 Years A Slave, which slid 30 percent). Last Vegas crept up a notch to show with 8.9 million and about 47 million so far against a 28 million budget. Free Virds slips to the fourth slot with 8.3 million and 42 million so far against a 55 million budget. Bad Grandpa rounds out the Top 5 with 7.7 million and 90 million so far against a 15 million budget. Below the fold, Ender's Game slides badly, perhaps beyond disappointment.
ALEC BALDWIN recieves a mere 2-week suspension from MSNB, following the actor's calling a photographer either a "c***sucking f**" or a "c***sucking fathead," as Baldwin maintains. He claims he was unaware that calling a man "c***sucking" might be considered an anti-gay slur. He also trotted out his gay hairdresser to defend him. You really can't make stuff like this up.
LAMAR ODOM is set re-sign with the Los Angeles Clippers, according to a source for Us Weekly.
KATIE HOLMES tweeted a possible commentary on ex-husband Tom Cruise.
JUSTIN BIEBER: That girl who filmed him sleeping in Brazilmay have a triple-x film credit.
CHARLIE SHEEN & DENISE RICHARDS were seen jetting out of Van Nuys Airport with their daughters Saturday as Sheen's custody battle with Brooke Mueller over ther sons continues. ALSO: Sheen offers to help Toronto Mayor Rob Ford. Of course.
IDRIS ELBA is expecting a baby with girlfriend Naiyana Garth.
LIBYA: The United States military is considering a mission to train Libyan security personnel with the goal of creating a force of 5000 to 7000 conventional soldiers and a separate, smaller unit for specialized counterterrorism missions, according to the top officer of the American Special Operations Command.
SYRIA: A regime helicopter exploded in the sky over Jassim village in Raqqah. Fighters are reportedly massing for a major battle in Qalamoun in Reef Dimashq; thousands of Hezbollah fighters are said to be gathering near the Lebanese border, and thousands of Al Nusrah and rebel fighters are said to be gathering nearby.
IRAN: A senior Obama administration official said on Friday that a solution could be found for one of the major stumbling blocks to an agreement that would freeze Iran's nuclear program, and that the accord might be achieved next week.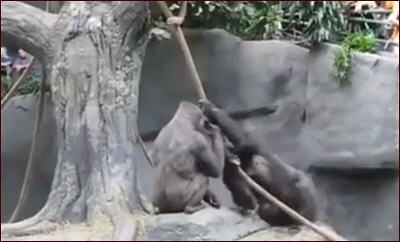 THE DIRTIEST GORILLAS at the zoo.
BUTTERBALL FACES A TURKEY SHORTAGE: Everybody panic. OK, not vegans.
THE SQUIRREL THREAT: A flying militant terrorizes Bambi.
CAT outfoxes DOG.