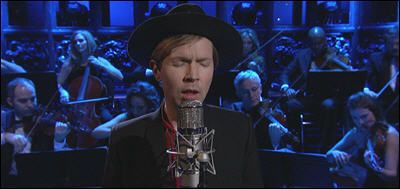 BECK played "Blue Moon" and "Wave" as the only entertaining part of the last SNL.
THE PIXIES play World Cafe Live in Philadelphia.
BRASS BED played a Tiny Desk Concert at the offices of NPR.
LUCIUS returns to the KEXP airwaves with a special live performance from the Triple Door.
COURTNEY BARNETT performs in the WNYC Soundcheck studio.
SAUN & STARR, a/k/a/ The Dapettes, drop "Hot Shot."
FATBOY SLIM: "Weapon of Choice."
ELBOW's Guy Garvey talks to The Guardian about aging, rejecting normality, and why music will always be his true love.
DRIVE-BY TRUCKERS talk to Paste about English Oceans.
RUFUS WAINWRIGHT talks to The Observer about becoming a father, being at boarding school and what he owes Elton John.
OWEN PALLETT talksed to SPIN about scoring Her.
WEEKEND BOX OFFICE: Non-Stop tops the box with 30 million, relly the top end of a Liam Neeson action debut, though this is unlikely to be as leggy as Taken was. Son Of God places with 26.5 million, which overperforms estimates, esp. in light of the reviews and the fact that it had basically aired on the History Channel; after two millenia, Christ still has a fanbase that will turn out at the cinema. The Lego Movie finally drops out of the top slot to show with 21 million on a 33 percent drop.The toy story breaks the 200 million mark domestically and closes in on 300 million worldwide. The Monuments Men climbs back to the fourth slot with 5 million, but still drops 37 percent. 3 Days to Kill drops a steep 60 percent to round out the Top 5 with 4.9 million.
THE OSCARS went to these folks.
THE INDEPENDENT SPIRIT AWARDS went to these folks, a number of whom also took home Oscars this year.
JULIE DELPY, a Best Screenplay nominee, said the Oscars are meaningless because 90 percent of the voters are old white men who want gifts. Also 90 percent of movies are crap.
GWEN STEFANI & GAVIN ROSSDALE welcomed a baby boy, their third son, on Friday.
PHILIP SEYMOUR HOFFMAN was killed by a toxic mix of heroin, cocaine and pills.
MARY-KATE OLSEN is engaged to marry her boyfriend of nearly two years, French banker Olivier Sarkozy.
GEORGE LOPEZ was busted for public intoxication in a casino.
UKRAINE: Putin goes to war in Crimea, which "experts" claim they didn't expect, despite how predictable Putin is. The West's options at this point are limited. Srsly, Crimea's Sevastopol is Russia's sole warm-water port, leased from Ukraine; anyone who thought Russia would do nothing as Ukraine turned West was kidding themselves.
VENEZUELANS dressed in white, blowing on whistles and blasting horns in the tens of thousands, protested in Caracas Sunday against the government of President Nicolas Maduro, the latest in escalating demonstrations that have left 18 people dead.
IRAN is moving ahead with a nuclear program that U.S. officials said would be frozen, and it is now clear the USA and other world powers are willing to accept an Iranian enrichment program that Iran refuses to abandon, say analysts.
A DOG sums up this winter, without defecating.
WILD BEAVERS are seen in England for hte first time in centuries.
A PARROT aids police in solving an Indian murder mystery.
GOAT AROUSAL EXPERTS have news for you.