PATE REUNION UPDATE: Jon, Mike & Jon (and we hope Ron) will be retaking a stage somewhere near Iowa State University on July 5th, 2013, just one short decade after their last reunion gig. Clear your calendar for something transcendent, a train wreck, or both! If you're on the Facebook, check in with the event page.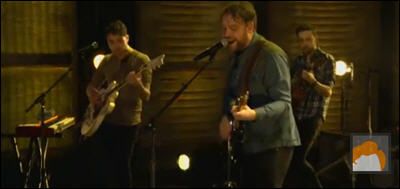 FRIGHTENED RABBIT brought "The Woodpile" to Coco.
NEW RELEASES from Wild Belle, Jon Patrick Walker, the Ocean Blue and more are streaming this week via Spinner.
MIKE COOLEY: The Drive-By Trucker swings through KEXP for an acoustic set of old favorites.
IVAN & ALYOSHA stopped by KEXP for a set of folky-pop tunes from their album "All The Times We Had."
MATMOS performs songs from The Marriage Of True Minds and further discuss its album concept at WNYC Soundcheck.
JUSTIN TIMBERLAKE is advance streaming The 20/20 Experience via iTunes. Not a fan of his music, though he seems like a cool guy.
MEAT PUPPETS go "Down" ahead of Rat Farm.
BEST COAST: Bethany Cosentino and her cat, Snacks, cover Roy Orbison's "Crying."
THE FEELIES: Let's revisit classics like "Away" and "Deep Fascination" for Twofer Tuesday.
STEREOPHONICS: Kelly Jones gives Drowned In Sound an album-by-album tour of the band's career.
FOALS: Yannis Philippakis talks to Pitchfork about not hiding behind lyrics and feeling like a middle-aged woman.
STORNOWAY: Jon Quin gives The Big Takeover a track-by-track breakdown of Tales From Terra Firma. (Thx, Chromewaves.)
MORRISSEY was hospitalized with double pneumonia. I know, it's serious.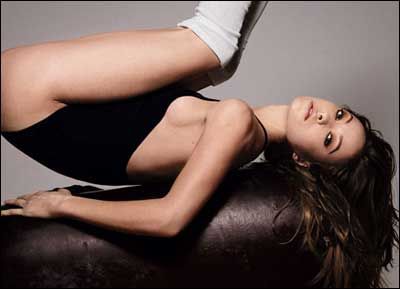 OLIVIA WILDE tells Marie Claire she didn't feel beautiful enough for Jason Sudeikis. Which means she's either a pathological liar or delusionally insecure.
AT LEAST 14 CELEBS AND POLITICOS are the victims of a hacker who has posted detailed information about what appears to be their finances, including Hillary Clinton, Jay-Z, Mel Gibson and Britney Spears.
BRADGELINA'S nuptuals could clash with ex-wife's Jennifer Aniston's big day. And Jolie would do it.
SELENA GOMEZ & VANESSA HUDGENS: The two fmr Disney girls are hitching their stars to provocateur/filmmaker Harmony Korine's Spring Breakers, a movie described in the article as "a druggy, violent, hypersexualized tale of innocence squashed."
ADELE & BEYONCE, contra prior reports, are not scheduled to perform at Michelle Obama's birthday bash.
JIM CARREY is back in the Dumb & Dumber sequel.
10 SERIOUS SCI-FI FILMS for the sentient fan. And as a hunge Star Wars (original trilogy) fan, I readily agree SW is not sci-fi. It's space opera.
FRANCE: Authorities said three French Islamists arrested last week near Marseilles were planning a terrorist attack on or about the one-year anniversary of the murders by al Qaeda-inspired shooter Mohamed Merah this month.
SAUDI ARABIA mulls abolition of beheading in favor of firing squads for capital punishments... due to reported shortages of government swordsmen.
ISRAEL: Outgoing Defense Minister Barak said it will become clear this year whether Iran will continue its nuclear weapons program or rein it in.
IRAQ: Al Qaeda in Iraq claimed credit for the March 4 ambush that killed 48 Syrian and 9 Iraqi soldiers.
SYRIA: Rebels broke through government lines, loosening a siege in central Homs. Government forces counterattacked with artillery and an airstrike. Both President Assad and rebel leaders vowed they would fight on until the other is defeated. However, neither side has been making major advances.
AN UNRULY WEASEL invaded the pitch during a Swiss Super League match between Thun and Zurich, inevitably accompanied by Yakety Sax.
MORE THAN 2800 DEAD PIGS have been found in a major river that flows through Shanghai, igniting fears among city residents of contaminated tap water.
GRUMPY CAT: A victim of exploitation?
THE SUMATRAN TIGERS tigers at the Sacramento Zoo have another adorable cub.