SATURDAY was a record-shattering day of traffic here; thanks to everyone for stopping by!
PATE REUNION UPDATE: Jon, Mike & Jon (and we hope Ron) will be retaking a stage somewhere near Iowa State University on July 5th, 2013, just one short decade after their last reunion gig. Clear your calendar for something transcendent, a train wreck, or both! If you're on the Facebook, check in with the event page.
TEGAN & SARA: The twins get "Closer" on Kimmel.

MY BLOODY VALENTINE released mbv, their first LP in 21 years, to stream and buy. The Quietus and NME are among those with track-by-track analyses.

SCREAMING FEMALES are advance streaming their Chalk Tape EP.

THE LONE BELLOW talks opening for The Civil Wars and plays songs from their debut at WNYC Soundcheck.The band was recently profiled at USA Today.

JENN GRANT plays songs from The Beautiful Wild at WNYC Soundcheck.
SAM COOKE & JACKIE WILSON unexpectedly meet up on "Everybody Loves To Cha Cha Cha."
ROBYN HITCHCOCK talks Alfred Hitchcock (no relation) at WNYC Soundcheck.
BRENDAN BENSON talks to Stereogum about parenthood and premieres the video for "Happy All The Time."
THOM YORKE talks to All Songs Considered about Atoms For Peace.
MGMT have cited Aphex Twin and house music as influences during writing their forthcoming album.
WEEKEND BOX OFFICE: Warm Bodies was the hottest this weekend, with a 19.5 million debut against a 30 million budget. Hansel and Gretel: Witch Hunters plummets 53 percent to place with 9.2 million; even so, this has about 70 million in worldwide receipts aginst a 50 million budget. Silver Linings Playbook climbed a notch to show with 8.1 million on a leggy 14.1 percent drop. Mama drops two to the fourth slot with 6.7 million on a 49 percent drop. Zero Dark Thirty rounds out the Top 5 with 5.3 million on a 45percent drop. I wonder whether the predominant male interest in the Super Bowl accounts for SLP doing better relative to Oscar competitor ZD30. After all, below the fold, Bullet to the Head debuted in sixth place with 4.5 million against a 55 million budget. Apparently, the success of The Expendables does not imply a residual audience for Schwarzenegger or Stallone separately.
PENELOPE CRUZ & XAVIER BARDEM are expecting their second child.
JUSTIN BIEBER: More weed, more problems. Plus codeine?
LINDSAY LOHAN is desperately trying to hire new counsel.
49'ERS FRANK GORE & MICHAEL CRABTREE prepped for the Super Bowl in a Nawlins strip club.
CHRISTINA RICCI is engaged.
AMANDA BYNES moves out of her NYC pad after an eviction threat.
JEREMY LONDON is off the hook in his domestic violence beef.
ED KOCH, the master showman of City Hall, who parlayed shrewd political instincts and plenty of chutzpah into three tumultuous terms as New York's mayor with all the tenacity, zest and combativeness that personified his city of golden dreams, died Friday. He was 88.
NORTH KOREA: Kim Jong Un has told his frontline troops to prepare for war and has issued martial law for North Korea, South Korean media report.
THE UNITED STATES said it would conduct its own investigation of the suicide bombing today at the US Embassy in Ankara that killed two people, and warned Americans to avoid US diplomatic facilities in the country.
ALGERIA: The UK and Algeria agreed to strengthen their strategic partnership by sharing intelligence and cooperating in counterterrorism.
LIBYA: The European Union agreed to help Libya with border security for the next two years. The UK pledged to provide military trainers and police advisers. A Benghazi police station was bombed but no one was hurt.
SYRIA: US Secretary of State Clinton said Iran has stepped up its military and financial support to the Syrian government.
EGYPT: Thousands of protesters hurled stones and firebombs at President Morsi's palace gates as security forces fired tear gas and water cannons; at least 48 people were injured. More demonstrations occurred across the country.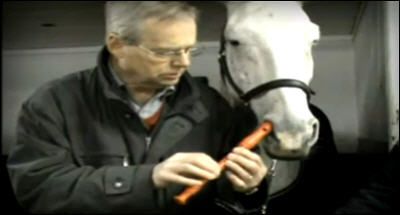 AND NOW FOR SOMETHING COMPLETELY DIFFERENT: A horse plays the flute with his nose.
86 CAMELS died in a fire at a camel farm in southwest Germany. You're gonna cry.
A 15-FT GIANT PYTHON babysits for a 13-year-old boy in China.
A PIGLET is convinced it's a dog. That'll do.