THE CHRISTMAS HOLIDAY STARTS HERE:
... with CHRIS ISAAK, live at Universal Studios. Your holiday-themed numbers include "Rudolph the Red-Nosed Reindeer," "Hey, Santa," "Last Month of the Year," "Blue Christmas," and "Christmas on TV." Bonus: Dreidel banter!

A CHARLIE BROWN CHRISTMAS: Sure, Charlie Brown, I can tell you what Christmas is all about. Mental Floss has "The Real Story Behind A Charlie Brown Christmas (and why it almost wasn't shown)." The WaPo has reflections from producer-director Lee Mendelson.

DARLENE LOVE & RONNIE SPECTOR duet on "Sleigh Ride" and "Rockin' Around The Christmas Tree."

THE POGUES: It's not Christmas Eve in the drunk tank (or even St. Patrick's Day) without a "Fairytale of New York." From 2012, here's the backstory.

ANTON BARBEAU, an occasional collaborator of the late Scott Miller, crafted his own "Xmas Song."

DEAN WAREHAM Does The Holidays.

THE 10 BEST PUNK CHRISTMAS SONGS, according to L.A. Weekly.

NORAD will be tracking Santa, per usual. CNET has a history and behind-the scenes story.

THE 25 BEST CHRISTMAS ALBUMS, according to Complex.
BILLY MACK: Because "Christmas Is All Around." ALSO: Is Love Actually is an awful movie?
THE REPLACEMENTS dropped "Poke Me In My Cage", just in time for the holidays.
THE FLAMING LIPS perform "White Christmas" as only they can.
SUPER FURRY ANIMALS: "The Keep That Keeps Giving." Not to be confused with "The Gift," which is not Christmasey at all.
CALEXICO: Speaking of presents, here's their "Gift X-Change."
THE MUPPETS: "Ringing of the Bells." Not to be confused with Super Furry Animals.
AN XMAS FLASH MOB from the Berklee College of Music broke out into an impromptu performance of the classic Christmas carol "O Holy Night" at Boston's Museum of Fine Arts.
GLAM XMAS: I started the month with Wizzard's awesome "I Wish It Could Be Christmas Every Day" and Slade's "Merry Christmas Everybody" (1973's UK Xmas No. 1). The circle is now complete.
HALL & OATES: "Jingle Bell Rock," reduced to its molten kitchy essense.
HOW THE GRINCH STOLE CHRISTMAS: The real deal, not Jim Carrey (may take a moment to load). Then he slunk to the ice box. He took the Whos' feast. He took the who pudding, he took the roast beast. He emptied the ice box as quick as a flash. Why, the Grinch even took the last can of who hash.
DAVID BOWIE & BING CROSBY'S cross-generational duet o­n "Little Drummer Boy." This historic even was recreated by Will Farrell and John C. Reilly. Plus, Jack Black and Jason Segel have done a cartoon cover.
NOW SHOWING: Christmas brings Unbroken, scoring 49 percent on the ol' Tomatometer; Into The Woods, scoring 68 percent; The Gambler, scoring 51 percent; and Big Eyes, scoring 71 percent. The Interview, in a reversal of fortune, will be shown in a few theaters; it's scoring 52 percent.
THE YEAR WITHOUT A SANTA CLAUS: Many people believe human activity is causing global warming. I blame Snow Miser and Heat Miser.
CHICAGO CHRISTMAS MEMORIES: If you grew up in Chicago (and I suspect other places), the season is not complete without watching the short cartoons of "Hardrock, Coco & Joe" (a story fantastic, a story so queer), "Suzy Snowflake" and the jazzy version of "Frosty the Snowman."
THE BEATLES fan club messages for 1963, 1964, 1965, 1966, 1967, 1968 and 1969.
THE TRON 1982 HOLIDAY SPECIAL, courtesy of Funny Or Die.
THE SEX PISTOLS' final UK show was a Christmas benefit.
PU$$Y RIOT will be home for Christmas, in what the band calls a PR stunt by the Russian government.
HOLIDAY BIN: Your stocking stuffers are now streaming from the Pate page at the ol' HM..
IT'S A WONDERFUL LIFE: Pate even had a song titled "Rope Around The Moon," so watch the whole thing. BONUS: Vintage Bailey backlash from warped, frustrated old people at the New York Times and Portfolio. DOUBLE-BONUS: 22 TV variations on It's A Wonderful Life.
RUDOLPH, THE RED-NOSED REINDEER: Pull up an ice block and lend an ear! Herbie wanted to be a dentist. NTTAWWT. BONUS: The Rankin-Bass classic continues to inspire ads like 2009's Verizon ad, following 2008's Apple ad, and even more so 2007's AFLAC commercial.
FESTIVUS: For the rest of us. Technically already started, so I can be one of your grievances.
SCARY GHOST STORIES: I overheard Andy Williams crooning "The Most Wonderful Time of the Year" in a store this month, and the lyric about "scary ghost stories" never really struck me before. Took me a second, but I supposed he was referring to Dickens. It turns out -- as noted by a coworker -- that this was a thing in Victorian England... and the modern day. BONUS: Krampus!
TEN UNFORGETTABLE Musical Christmas Moments On Film.
THE 30 BEST CHRISTMAS MOVIES, according to Empire magazine.
CLASSIC TV CHRISTMAS SPECIALS by the truckload, linked at WFMU, the post is a few years old, but many of the links still work. Also, 23 TV Episodes based on "A Christmas Carol."
NAT KING COLE: His chestnuts are roasting.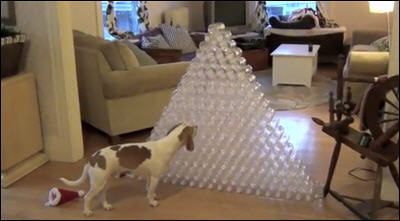 MAYMO THE BEAGLE gets 210 bottles for Christmas.
100 ANIMALS in Santa hats. You're welcome.
THE NIGHT BEFORE CHRISTMAS, as told by cats.
14 ANIMALS Who Tried to Ruin Christmas.
AN AUSTRALIAN FAMILY shot into the Guinness Book of Records in 2011 after decorating their home with an astonishing 331038 Christmas lights. If the video at the link doesn't work, try this one.