THE WEEKEND STARTS HERE...
...with THE TALKING HEADS! Here's the expanded band -- including axeman Adrian Belew (who certainly influenced Jon Pratt's early work in Pate) -- Live in Rome, circa 1980. Your setlist: "Psycho Killer," "Stay Hungry," "Cities," "I Zimbra," "Drugs," "Take Me To The River," "Crosseyed And Painless," "Life During Wartime," "Houses In Motion," "Born Under Punches," and "The Great Curve."
ALEJANDRO ESCOVEDO stopped by World Cafe for a chat and mini-set.
AYE NAKO advance streams Silver Haze.
ALL SONGS CONSIDERED: Tracks from Elf Power, Big Thief, Walter Martin and more highlight the latest episode.
PEARL JAM covers Brandi Carlile's ""Again Today," with Carlile on backup vox.
DRUMS share "Blood Under My Belt" ahead of Abysmal Thoughts.
CHEMTRAILS share "Headless Pin Up Girl."
THE LA's: "There She Goes." Again.
SGT PEPPER'S LONELY HEARTS CLUB BAND is getting a stereo remix and comprehensive reissues. Here's the trailer from one of the coming 50th anniversary documentaries.
FEIST is profiled by the New York Times.
PAUL WELLER: The Modfather will soon welcome his eighth child.
CAN is getting an anthology and an authorized biography.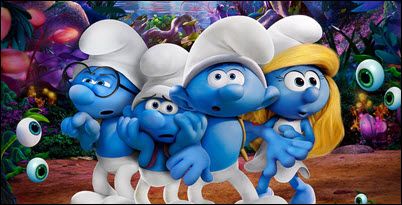 NOW SHOWING: This weekend's wide releases are Smurfs: The Lost Village, which is currently scoring 30 percent on the ol' Topmatometer; The remake of Going In Style, which is scoring 35 percent; and The Case For Christ, which was not screened for critics.
DON RICKLES, the rapid-fire insult machine who for six decades earned quite a living making fun of people of all creeds and colors and everyone from poor slobs to Frank Sinatra, has died. He was 90.
GUARDIANS OF THE GALAXY VOL. 2 has a new teaser trailer online.
DANIEL CRAIG has been "just about persuaded" by the prospect of a gazillion dollars to make one more James Bond movie.
CHRISTIAN BALE may star in a... Dick Cheney biopic?
MICHAEL CAINE explains why he voted for Brexit.
MICHAEL BAY threatens to make 14 more Transformers movies unless his demands are met.
VERNE TROYER: Mini-Me is headed to rehab.
HOLLYWOOD faces another possible writers' strike.
SYRIA: The United States launched a military strike on a Syrian government target in retaliation for their chemical weapons attack on civilians earlier in the week.
SHARKNADO: A cyclone in Australia dumped a bull shark shark in a muddy puddle on land.
A DOG at a Nigerian wedding party grappled with a suicide bomber until her explosives detonated, killing the animal as well.
A HORSE returning from a run to Taco Bell escaped serious injury after falling into a 5-foot-deep hole in Southern California. Who among us?
GIANT SLOTHS dug mysterious tunnels in South America.