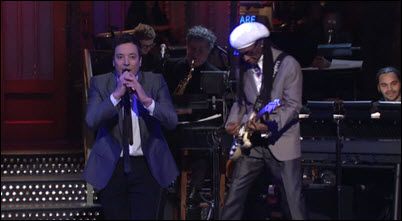 JIMMY FALLON, backed by NILE RODGERS in a performance of David Bowie's "Let's Dance."
SON VOLT, Live at the Bowery Ballroom, April 7, 2017.
KRISTIN HERSH stopped by World Cafe for a chat and mini-set.
SINKANE played a Tiny Desk Concert.
THE BLACK LIPS share "Squatting in Heaven."
IGGY POP shares "Assh*le Blues." Do you need the NSFW flag here?
FRANK BLACK: Let's have a "Headache" and his cover of "Duke of Earl" for Twofer Tuesday

FEIST tals to Pitchfork about inding the past in the present, wrestling between depression and resiliency, and chasing a kind of sublime austerity with her first new album in six years.

THE DAMNED: At Rolling Stone, Dave Vanian and Captain Sensible reflect on gigging with Lemmy, hanging with Led Zeppelin and their constantly evolving sound.

BRUCE LANGHORNE, the inspiration for the song "Mr. Tambourine Man," has died at age 78.

ALLAN HOLDSWORTH, who performed with Yes and Soft Machine, died unexpectedly on April 16. He was 70.
GUARDIANS OF THE GALAXY VOL 3 will be written and directed by James Gunn.
PRINCE HARRY sought counselling after enduring two years of "total chaos" when Princess Di died.
ORLANDO BLOOM & NINA DOBREV are hanging out romantically.
CARMELO & LA LA ANTHONY are now living separately.
JENNIDER GARNER & BEN AFFLECK have not even started the process of figuring out who gets what in the divorce, because they made a real attempt during their separation to work things out rather than just end things.
JUSTIN BIEBER is officially in the clear for allegedly headbutting a guy at a pre-Grammy party after his attorneys effectively stonewalled cops.
ARNIE HAMMER says a Man from U.N.C.L.E. sequel is in the works?
ROMAN POLANSKI's lawyer is upset. Poor baby.
NORTH KOREA will continue to test missiles, a senior official has told the BBC in Pyongyang.
TURKEY: Turkish citizens who did not want to give more powers to President Recep Tayyip Erdogan had a very hard Monday. The referendum to abolish the post of the Prime Minister and to create an executive-led rather than parliamentary system had passed a few hours earlier, albeit by a narrow margin.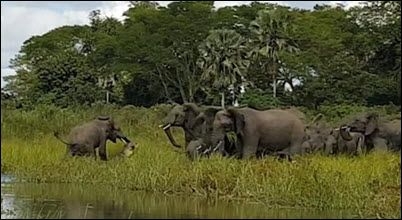 A CROCODILE leaps from the water to attack an elephant in Malawi.
A GIANT EGG, containing an egg.
TOBY THE WHIPPET sets a new dog balloon-popping world record.
A WANDERING BEAVER shut down part of highway in Cambridge, Ont. Hey, nice beaver!