THE WEEKEND STARTS HERE: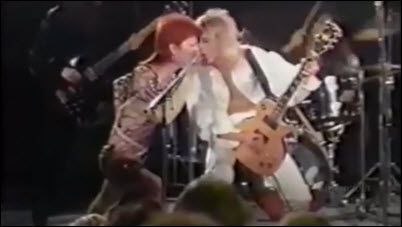 ... with DAVID BOWIE! The 1980 Floor Show was really recorded live at the Marquee, circa October 1973. It aired on The Midnight Special the following month. Your selist includes: "Sorrow," "Everything's Alright," "Space Oddity," "I Can't Explain," "Time," "The Jean Genie," and "I Got You Babe," ft. Marianne Faithfull.
DANIELLE LUIPPI & PARQUET COURTS advance stream MILANO.
BOOTSY COLLINS advance streams World Wide Funk.
GVSU NEW MUSIC ENSEMBLE advance streams RETURN.
THE YOUNG FRESH FELLOWS THEME: T.G.I.F.
INXS: The backstory of Kick, which turns 30.
STEELY DAN's Donald Fagen is suing his insurance companies over health claims.
COURTNEY BARNETT & KURT VILE take Pitchfork on a track-by-track tour of their album.
JANN WENNER: Rolling Stone's founder has had a falling out with his biographer (unless it's clever marketing).
NOW SHOWING: This weekend's wide releases include Geostorm, which iis currently scoring 20 percent; Only The Brave, which is scoring 89 percent; Tyler Perry's Boo 2! A Madea Halloween, which was not screened for critics, but may win the weekend ; The Snowman, scoring 13 percent; and Same Kind of Different as Me, unscreened for critics.
HARVEY WEINSTEIN is under investigation by the LAPD for sexual assault. A club owner corroborated the potted plant story. And he's already belligerent at sex-addiction rehab.
QUENTIN TARANTINO: "I knew enough to do more than I did" about Harvey Weinstein; he feels ashamed.
LUPITA NYONG'O writes about her harassiment by Harvey Weinstein.
DAVID BLAINE is under investigation by Scotland Yard for sexual assault.
BEN AFFLECK, currently undergoing a PR nightmare, somehow found a stray, purebread husky pup and heroically adopted it.
JESSICA CHASTAIN called out hypocrisy in Hollywood at Elle Magazine's Women In Entertainment event.
BRITISH GQ POLITICAL REPORTER Rupert Myers was sacked amid "allegations" about his behavior.
I, TONYA, improbably featuring Margot Robbie as Tonya Harding, has a teaser trailer online.
A MOOSE MOM saves her child from drowning.
HARRY THE PUP joins the CIA.
THE WORLD'S OLDEST TORTOISE may be gay. nttawwt.
IDITAROD SLED DOGS tested positive for a banned substance.