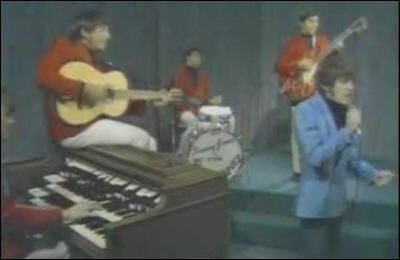 TOMMY JAMES & THE SHONDELLS: "I Think We're Alone Now," at the Village Square

JOAN SHELLEY streams a covers EP called Rivers & Vessels.

WOLF ALICE stopped by The Current for a chat and mini-set.

JESSICA LEA MAYFIELD stopped by World Cafe.

SNAIL MAIL shares "Pristine."

SOCCER MOMMY shared a video for "Cool."

THE LEMON TWIGS: Brian D'Addario talks to Brooklyn Vegan and shares two new tracks. Awww yeaaahhh.

DREAM WIFE: "We're not holding back at all."

STEVE ALBIMI talks to Narduar about lighting farts on fire with Nirvana, smashing toilets with Ty Segall, and much more.

THE NUMBER ONES looks at Roy Orbison's tense, operatic two-minute masterpiece "Running Scared." The B-side was Love Hurts"!

READY PLAYER ONE is a Steven Spielberg film adapted from a book clearly inspied byt eh peak blockbuster version of Spielberg -- and arena where Spielberg has not often played lately. And perhaps it is all of this -- or the virtual relaity where much of the action occurs -- that gives off a slight feeling of virtual Spielberginess. Or prehaps Spielberg is now at a place in his life where he cannot tap into that vintage Spielberg thing in exactly the same ways as decades ago. But he remains a master directo, and so even the virtual Spielberg is quite entertaining, and generally better than others who have tried to be virtual Spielberg (looking at you, J.J.). Obviously, it's more fun the more rooted you are in the pop culture of the 80s and early 90s, but with plenty for those who are not.

COREY FELDMAN says he was attacked and stabbed in Los Angeles Tuesday night, though there now seem to be differing opinions.

ROSEANNE: The sitcom returned to stunning ratings.

DAWSON'S CREEK hits 20 with a cast reunion.

SEAN PENN wrote a novel. He went full Penn. You never go full Penn.

DONALD GLOVER denied being to busy to write a Deadpool TV series.

ISLE OF DOGS, reviewed by dogs.

THE THREE-BODY PROBLEM may become a billion-dollar Amazon production.

QUARRELING KOALAS: Two male koalas were caught wrestling in Australia, reportedly, over a female koala just out of view.

A DOGGO rescues a frozen bird.

HAWKS are attacking people in Connecticut.

A KANGAROO fights a golf course flag.