THE WEEKEND STARTS HERE: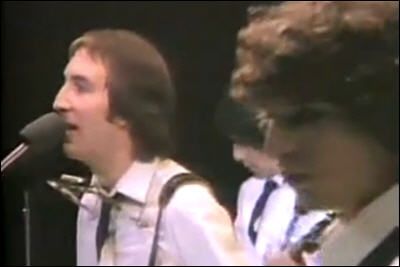 ... with THE KNACK! That's alright, I won't tell anyone they're a guilty pleasure of yours. Live at Carnegie Hall in 1979, your setlist includes: "The Hard Way," "She's So Selfish," "Rave Up," "Oh Tara," "Your Number Or Your Name," "Not Fade Away," "My Sharona," "Let me Out," "It's You," "Hold On Tight," "Heartbeat," "A Hard Day's Night," "Good Girls Don't," "Frustrated," "End Of The Game," and "C'Mon Everybody."
ARTHUR BUCK: Joseph Arthur and Peter Buck stream a self-titled debut.
WELLES advance streams Red Trees And White Trashes.
MARISA ANDERSON advance streams Cloud Corner.
PRINCE's estate shares "Mary Don't You Weep" ahead of Piano & A Microphone, 1983.
INTERPOL shares "The Rover."
DEE-LITE finds that "Groove Is In the Heart," with a little help from Bootsy Collins and Q-Tip.
THE CURE: Robert Smith talks about the upcoming LP, his past rivalry with Duran Duran and Morrissey, and more.
SPOON talks about possibly making an earthier new LP for darker times.
COURTNEY BARNETT talks about getting a little more earnest on her new LP. (Thx, LHB.)
EDDY CLEARWATER, a Mississippi-born Chicago bluesman who billed himself as "The Chief" and often performed in a feathered headdress, died on Friday at his home in Skokie, Ill. He was 83.
NOW SHOWING: This weekend's wide releases are Ocean's 8, which is currently scoring 75 percent on the ol' Tomatometer; Hotel Artemis, which is scoring 70 percent; and Hereditary, scoring 95 percent.
OPERATION FINALE, a Nazi hunt starring Oscar Issac and Ben Kingsley, has a trailer online.
QUEEN ELIZABETH II & MEGHAN MARKLE are taking a train trip.
JOHNNY DEPP is doing just fine despite fans' concerns over his recent weight loss.
ROSS & RACHEL are not on a break.
AN ALLIGATOR knocks out a Florida Fish and Wildlife Conservation officer after being captured.
AN ANGRY PET OWNER chases after a dog thief until he flips his van before fighting him with a machete.
A TEXAS MAN decapitated a rattlesnake. It bit him anyway and he nearly died, his wife says.
A WHALE WHISPERER has been accused of defrauding investors with technology he claimed would affect the physics of oil using soundwaves.