THE WEEKEND STARTS HERE:
...with THE LOVIN' SPOONFUL! The obligatory "Summer in the City" because of course. But let's do the other big hits: "Daydream," "Do You Believe in Magic," and "You Didn't Have To Be So Nice." Also, the band gets some orchestral backing on "Darlin' Be Home Soon," which is lesser-known today, but which reached No. 15 on the Billboard charts in 1967.
ELVIS PRESLEY: Stream selected tracks from the three-disc A Boy From Tupelo.
SERATONES play the Mountain Stage. A little bit Nirvana, a little bit Big Brother & the Holding Company.
MY MORNING JACKET plays a full set at the Forest Hills Stadium.
RADIOHEAD played Tel Aviv.
ALL SONGS CONSIDERED features tracks from Josh Ritter, Ian Chang, Moses Sumney and more.
MICHAEL McDONALD shares "Find It In Your Heart."
WILD CHERRY: "Play That Funky Music." It's what they do.

LINKIN PARK frontman Chester Bennington has died by suicide, according to TMZ; he was 41.

ROBYN HITCHCOCK talks to Aquarium Drunkard about his career, living in Nashville, and his new self-titled album.

BILLY BRAGG talks skiffle on Fresh Air.

MITSKI does a Q & A with Stereogum.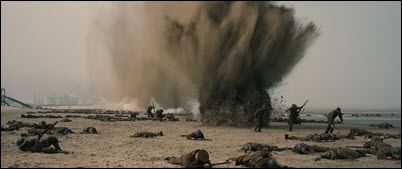 NOW SHOWING: This weekend's wide releases include Dunkirk, which is currently scoring 95 percent on the ol' Tomatometer; Valerian and the City of a Thousand Planets, which is scoring 59 percent; and Girls Trip, scoring 86 percent.
DUNKIRK: Christopher Nolan's recreation of the historic and somehat miraculous evacuation of the Brititsh Expeditionary Force from France is a remarkably tense, "you are here" dramatic experience. It is perhaps not as harrowing as the Normandy invasion sequence of Saving Private Ryan, but it's in the ballpark for the length of an entire film. And given this, it may be that the riskiest thing about this movie -- aside from the decision to release a WWII movie in mid-Summer -- is that there is not terribly much in the way of character development. There is, however, a fair amount of character revealing in the crucible of the event. Nolan also manipulates time -- as he is wont to do -- ultimately bringing three different, seemingly simple timelines on different time scales together to portray its complexity. It's an impressive, austere film that is probably going to be more appreciated than enjoyed.
O.J. SIMPSON was granted parole and he'll be released from prison as early as October.
STEVIE WONDER reportedly tied the knot over the weekend with fiancée Tomeeka Robyn Bracy.
CHARLIZE THERON is dating again.
DOCTOR DOOM may be getting his own movie.
KINGSMAN: THE GOLDEN CIRCLE has a red-band trailer online.
THE SNOWMAN has a trailer online.
THE SHAPE OF WAYER has a trailer online.
PACIFIC RIM: UPRISING has a teaser online.
FIVE ADORABLE CHEETAH CUBS went public at the Monarto Zoo.
AN ALABAMA MAN shot an 820-lb wild hog in his front yard.
A PARROT as a witness for the murder prosecution.
A NINE-YEAR-OLD discovers a million-year-old fossil.