THE MEMORIAL DAY WEEKEND STARTS HERE:
...with THE SWEET! The bubble-glam rockers are probably best known for the trifecta of "Little Willy," "Ballroom Blitz" and "Fox on the Run," though they also charted with the harder-edged "Action" and the more ballad-y "Love is Like Oxygen." All of those clips also feature the band's rather unique fashion sense, but you have to see the clip for "Wig Wam Bam" -- complete with headdress -- to see the band at its most ridiculous. BONUS: "All That Glitters" is a BBC documentary originally broadcast in February 1974 charting a day in the life of The Sweet.
BEST COAST stopped by Morning Becomes Eclectic for a session.
UNKNOWN MORTAL ORCHESTRA plays songs from Multi-Love live on KEXP.
DR. DOG performs at last week's NON-COMMvention in Philadelphia.
COURTNEY BARNETT plays songs from Sometimes I Sit and Think, And Sometimes I Just Sit in a live session from WNYC's Greene Space.
DESTROYER drops "Dream Lover" ahead of Poison Season. This.
SEAPONY "Saw the Light" ahead of A Vision.
T. REX: "20th Century Boy." Aow!


THE DEAD: Bob Weir talks to Rolling Stone about the The Long Strange Trip of Bob Weir, the state of the reunion tour rehearsals and why the Dead chose Trey Anastasio for the daunting task of stepping into Jerry's shoes.

RIDE:Andy Bell and Mike Gardener talk to TimeOut about their reuinion, name-dropping a few bands along the way. (Thx, Frank Yang)

JASON ISBELL talks to the Cleveland Scene about his latest LP and a violent Drive-By truckers show in the city. (Thx, LHB.)

LAURIE ANDERSON answers 22 questions at The Guardian.

AUSSIE POLICE warn the public of the dangers of Nickelback. Fair cop.
NOW SHOWING: This weekend's wide releases are Tomorrowland, which is currently scoring 53 percent on the ol' Tomatometer; and the reboot of Poltergeist, scoring 50 percent.
MATTHEW LEWIS: Neville Longbottom grew up and excited people on social media.
CHRIS PRATT offers drunk acting tips to GQ ahead of Jurassic World.
MAGGIE GYLLENHAAL was told by a Hollywood producer that she was too old, at 37, to play the love interest of a 55-year-old man.
EMMA STONE & ANDREW GARFIELD: Together again?
FLAVOR FLAV was arrested early Thursday morning in Las Vegas for...many, many things.
JOSH DUGGAR (19 Kids and Counting) resigned as Executive Director of the Family Research Council, acknowledging he sexually molested underage girls including some of his sisters.
CARA DELEVINGNE: Hollywood's next "It" Girl?
AL QAEDA tried to establish a recruitment office in Iran but backed off because it was deemed to be too expensive.
THE ISLAMIC STATE is sending the 'prettiest virgins' they capture to slave markets in the Syrian city of Raqqa, where they are sold as sexual objects to the highest bidder, the United Nation's Special Representative on Sexual Violence in Conflict has said.
IF IRAN launched a ballistic missile at the Middle East, nuclear or not, Arab states would have as little as four minutes to act before impact.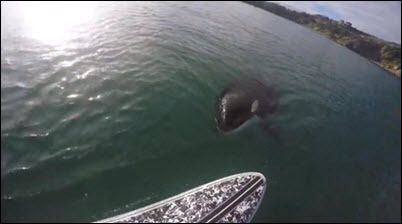 A KILLER WHALE checks out a paddleboarder.
A PYTHON in Australia got more than he bargained for when he swallowed the tongs his owner was using to feed him a rat.
AND THERE WERE CHICKENS all over the highway.
A SEA LION wanders into a bar...
AN "ELPHIE"? A Vancouver man is making international headlines with an extraordinary selfie photo taken by an elephant in Thailand that grabbed his GoPro.