THE WEEKEND STARTS HERE:
...with the YOUNG FRESH FELLOWS! Live at Cicero's in St. Louis, On November 23rd,1985, so this is Chuck Carroll-era YFFs. Selections include: "Gus Theme," "White Bird," "If I Had A Hammer," "Power Mowers' Theme," "Where Is Groovy Town?", "Sharing Patrol," "Topsy Turvy," "Young Fresh Fellows Theme," "Hang On Sloopy," "All Messed Up," "Big House/ Love Boat Theme medley" "Mr. Salamander's Review," "Down By The Pharmacy," "Close to You/ Someone I Care About," "Aurora Bridge," "How Much About Last Night Do You Remember?" "This Little Mystery," "Searchin' USA," "Fair Exchange," and "My Friend Ringo."
BEN WATT (Everything But the Girl) is advance streaming his new solo album Fever Dream.
BRASS BED advance streams In the Yellow Leaf.
JOHN CARPENTER (yes, that one) advance streams Lost Themes II.
MOONFACE and SIINAI drop "Risto's Riff" ahead of My Best Human Face.
THE SMALL FACES play "Itchycoo Park," their only US charter.
CHEAP TRICK's Rick Nielsen talks to Aquarium Drunkard about the band's new record, playing with John Lennon, and recording with the late George Martin.
THE BESNARD LAKES deny being witches and warlocks, as you would expect.
LAURIE ANDERSON talks to The Guardian about curating the Brighton festival, Lou Reed, her new film and what her pet terrier taught her about growing old.
ELECTRIC LIGHT ORCHESTRA: Ten of Their Best.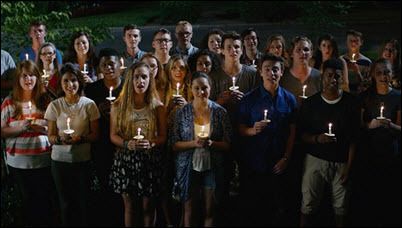 NOW SHOWING:This weekend's wide releases include God's Not Dead 2 and Meet the Blacks, neither of which was widely screened for critics. I Saw the Light expands near-wide, scoring 13 percent on the ol' Tomatometer. Everybody Wants Some!! opens on 19 screens, scoring 98 percent.
BEN AFFLECK has written his own Batman script. And I might trrust him more than Zack Snyder now.
SUICIDE SQUAD is rumored to be undergoing reshoots to lighten it up so it's not as dark as BvS.
ROBIN WRIGHT is in final negotiations to join Harrison Ford and Ryan Gosling in Alcon's Blade Runner sequel.
CHRIS HEMSWORTH talks women in film, from The Huntsman: Winter's War to the Ghostbusters reboot.
WILLIAM SHATNER is being sued for 170MM by a Florida-based radio host who claims that the Star Trek actor is his father.
NASCAR driver/owner Derek White turned himself into authorities Wednesday and faces seven charges in connection to the biggest tobacco-smuggling bust in North American history.
RONNIE CORBETT, best known for BBC comedy sketch show The Two Ronnies, has died aged 85. Corbett started his TV comedy career on David Frost's satirical comedy the Frost Report in 1960, which meant that his career tended to cross paths with the future members of Monty Python, who wrote (and in the case of John Cleese, performed) on the show.
COLD WAR REDUX? As tensions continue to escalate between Russia and the West, the Pentagon has announced plans to deploy U.S. troops, armed with modern equipment and heavy artillery, full time along NATO's eastern borders.
HE'S GOT THIS... or does he?
A BABY FOX is being cared for by the Scottish SPCA animal charity after becoming separated from its mother.
AN ENDANGERED PANTHER visits a Florida porch.
THE SQUIRREL THREAT: Exterminators were mistaken for gunmen, resulting in the locdown of a school, after a clever phone call from militant rodents in Arkansas.