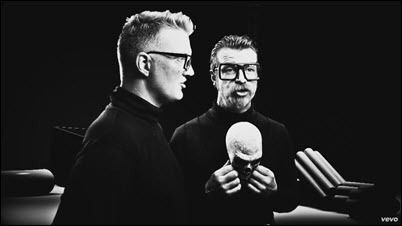 EAGLES OF DEATH METAL were caught in the middle of the Paris terror attacks on Friday. Indeed, I had the sad task of informing a member of the Continental Drifters of this fact on social media. Among the victims was Nick Alexander, from London, who had been hired to work on the tour. If you didn't know, they aren't death metal; the name is a goof, as are a number of their songs. Their latest single is "Complexity." (some NSFW language)
KURT COBAIN: Montage of Heck is streaming on Spotify.
BLITZEN TRAPPER stopped by Morning Becomes Eclectic for a session.
ALBERT HAMMOND JR stopped by The Current for a chat and mini-set.
MAC DeMARCO stopped by World Cafe for a chat and mini-set.
DANGER MOUSE has two new tracks included in the latest All Songs Considered.
FLEETWOOD MAC: "Go Your Own Way," live circa 1979. Sounded great, fellas, but I coulda used a little More Cowbell.
IAM MacKAYE & STEVE ALBINI interviewed each other about the history of American punk rock.
PRINCE summoned The Guardian for an interview that was as Princely as ever.
YACHT gets a profile from SPIN.
THE FEMALE ROCK MEMOIR is everywhere this Autumn, and changing some people's perceptions of Rock/Punk.
WEEKEND BOX OFFICE: Spectre repeats atop the chart with 35.4MM, in large part because most films didn't want to launch between James Bond and The Hunger Games finale this weekend. The latest Bond dropped 449 percent in its second weekend, less than Skyfall, which probably relieves the studios a bit (though Skyfall's second weekend was up against the last Twilight and Spielberg's Lincoln). Worldwide, Spectre sits at 543MM; it may need 700MM to profit on the big screen. The Peanuts Movie placed again with 24.2MM;its 45 percent drop may reflect front-loading from nolstalgic adults without kids seeing it last weekend. The debut of Love the Coopers showed with 8.4MM, which may not be enough to give the holiday-themed flick momentum to stick around through the holiday season. The Martian dropped to the fourth slot with 6.7MM, but still looks leggy. Scott & Damon are well in the black already, though this hasn't been the smash Gravity was. The 5.8MM debut of The 33 rounded out the Top Five, and will need foreign receipts to profit.
PAULEY PERRETTE (NCIS) took to Twitter to tell the story of how she got attacked near her Hollywood home by a homeless man on Thursday night.
LAMAR ODOM is having a tough time with communication and mobility.
DAVID HASSELHOFF has dropped the "Hassel" from his last name and will now go by David Hoff.
LINDSAY LOHAN dressed up as murdered actress Sharon Tate — on Charles Manson's birthday.
RHONDA ROUSEY is "depressed" and "bummed out" after losing her UFC title to Holly Holm, but UFC Prez Dana White tells TMZ Sports there will absolutely be a rematch.
THE HUNGER GAMES: Citing the attacks in Paris, Lionsgate has announced the suspension of interviews by press on the red carpet at the Los Angeles premiere of The Hunger Games: Mockingjay -- Part 2 set to take place Monday afternoon.
FRANCE bombed the Syrian city of Raqqa on Sunday night, its most aggressive strike against the Islamic State group it blames for killing 129 people in a string of terrorist attacks across Paris only two days before. The Paris terror attacks are likely to galvanize a stronger global military response to Islamic State, after a U.S.-led air war that has lasted more than a year has failed to contain a group now proving itself to be a growing worldwide threat. The number of "watchable" suspects, meaning potential terrorists who need monitoring by the security services, in France alone exceeds 5,000, according to Paris.
THE ISLAMIC STATE's military losses may have contributed to a shift toward promoting terror attacks in other countries. OTOH, it seems like ISIS is also following the path blazed by Al Qaeda: Seize control of land in a failed state (or two), use it as a base to train jihadis for foreign operations.
BELGIUM's home affairs minister said that the government does not "have control of the situation in Molenbeek," a working-class neighborhood of Brussels that has been linked to several terrorism plots in recent years.
SYRIA: US President Barack Obama and Russian President Vladimir Putin agreed on Sunday on the need for UN-sponsored peace talks and a ceasefire to resolve years of war in Syria, a White House official said.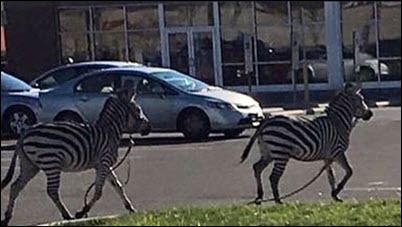 TWO ZEBRAS escaped from a circus in West Philadelphia on Sunday, leading police on a wild chase for miles through the city.
A ROGUE EMU whose escape more than 60 days ago prompted lockdowns at two Delaware elementary schools has been captured.
A GATOR bit a Florida Man doing yard work.
THE CAT MUSEUM in Singapore isn't much of a museum, tbh.