U2: "Pride" and "MLK." Crushingly obvious. Have a dream.
DUM DUM GIRLS are advance streaming Too True.
THE AUTUMN DEFENSE is advance streaming Fifth.
LAURA CANTRELL is advance streaming No Way There From Here.
QUILT is advance streaming Held In Splendor.
DION: A vintage performance of "Abraham, Martin & John."
SHARON JONES talks to NPR about putting aside music to battle cancer, and come back.
SKATERS are profiled as part of DIY's Class of 2014.
THE BBC will be plunged into a major crisis with the publication of a damning review, expected next month, that will reveal its staff turned a blind eye to the rape and sexual assault of up to 1000 girls and boys by Jimmy Savile in the corporation's changing rooms and studios.
THE 10 BEST SONGS FROM THE KILLERS, according to Stereogum.
WEEKEND BOX OFFICE: Ride Along dominates the chart with a 41.2 million breakout performance from Kevin Hart (and Ice Cube and director Tim Story, who both have solid box office track records). Lone Survivor places with 23.2 million, on a not-bad 39 percent drop; at 74 million total so far, this one now tops director Peter Berg's domestic total for Battleship. The Nut Job shows with 20.6 million, whichis an open on the path to profit against a 42 million budget. Jack Ryan: Shadow Recruit has a disappointing debut of 17.2 million; it may do alright once overseas grosses are included, but seems unlikely toreboot the franchise. Frozen rounds out the Top 5 with 12 million, despite The Nut Job opening.Below the fold, awards buzz has propelled American Hustle ahead of The Wolf of Wall Street for now.
JACK RYAN: SHADOW RECRUIT probably deserved better than it got at the box office, as long as you're not a Tom Clancy purist and are willing to overlook some glaring plot holes of the sort typical to action pictures. Paramount seemed desperate enough to revive the Harrison Ford era for this franchise as to retain Steven Zaillian (who wrote Ford's dilaogue in Clear and Present danger after script doctoring Patriot Games) as screenwriter, which could not have been cheap. Chris Pine stars as Jack Ryan, if Jack Ryan was a yong and vaguely smartass-y Chris Pine. Keira Knightley, Kevin Kostner and Kenneth Branagh all turn in solid enough performances, as one might expect under Branagh's direction. It was not the Bourne kncokoff I feared, and sufficiently suspenseful for a January release.
THE SAG AWARDS went to these folks. Relevant to the Oscars? Actors comprise 20 percent of the Oscars vote, and the SAG is usually a good indicator of the acting Oscars.
JOHNNY DEPP & AMBER HEARD engagement confirmed.
LAURA LINNEY and her husband welcomed a son.
GWEN STEFANI is having a third boy.
KANYE WEST: No witnesses have corroborated his claim that the 18-year-old he pummeled threaten to kill Kim Kardashian. Shocka.
MADONNA apologized for using the n-word on Instagram.
JUSTIN BIEBER is using drugs with alarming regularity, sources tell TMZ.
DENNIS RODMAN checked into an undisclosed alcohol rehabilitation center after bizarre behavior in North Korea.
DARREN SHARPER, a 5-time Pro Bowler and Super Bowl champ, has been arrested in L.A. on suspicion of rape.
BATMAN vs SUPERMAN has been pushed back 10 months, which could put it in direct competition with a Marvel film.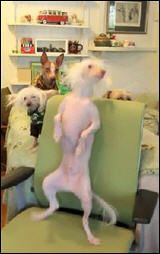 UKRAINE: What started out as largely another Sunday of peaceful protests in Kiev turned violent later in the day, as protesters clashed with riot police. An estimated 100K protesters swarmed the streets after sweeping new anti-potest laws were enacted by the parliament.
EGYPT: After crushing the Muslim Brotherhood at home, Egypt's military rulers plan to undermine the Palestinian militant group Hamas, which runs the neighboring Gaza Strip, senior Egyptian security officials told Reuters.
A BALD DOG DANCES: Let's go to the video.
A DOG was blamed by two allegedly intoxicated men for driving into a ditch near Tulsa, OK.
CATS tend to think of humans as big, lazy, overgrown fellow cats.
PRINCESS, New Jersey's pigskin-prognosticating camel, has died just weeks before the state is set to host its first Super Bowl.