THE WEEKEND STARTS HERE: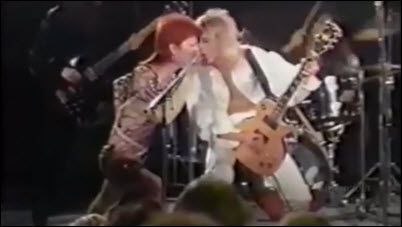 ... with DAVID BOWIE! The 1980 Floor Show was really recorded live at the Marquee, circa October 1973. It aired on The Midnight Special the following month. Your selist includes: "Sorrow," "Everything's Alright," "Space Oddity," "I Can't Explain," "Time," "The Jean Genie," and "I Got You Babe," ft. Marianne Faithfull.
CHUMPED advance streams Teenage Retirement.
J MASCIS stopped by World Cafe for a chat and mini-set.
PAOLO NUTINI stopped by World Cafe for a chat and mini-set.
TOM VEK stopped by Morning Becomes Eclectic for a session.
HEAVY ROTATION: 10 Songs Public Radio Can't Stop Playing.
PETER BJORN & JOHN cover Paul McCartney's "Put It There." It's a bonus track from the Sir Paul tribute LP.
EX-CULT drops "Cigarette Machine"," the title track from the band's upcoming EP.
THE YOUNG FRESH FELLOWS THEME: T.G.I.F.
PINK FLOYD: Pipers at the Gates of Punk?
THE AFGHAN WHIGS: Greg Dulli takes SPIN on a track-by-track tour of the classic Gentlemen.
BONO's private plane lost a hatch as it was coming in for a landing in the German capital but the U2 singer was never in any danger. His luggage is another matter.
GENESIS, ranked by Stereogum.
CUTOUT BIN: I'm streaming a little more nostalgia via the Pate page at the ol' HM.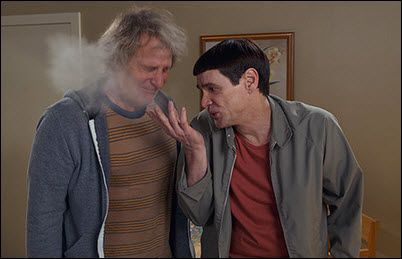 NOW SHOWING: This weekend's wide releases are Dumb and Dumber To, which is currently scoring 26 percent on the ol' Tomatometer; and Beyond The Lights, scoring 84 percent.
RICHARD SIMMONS has been in a deep depression following an injury.
SEAN PENN & CHARLIZE THERON had their morning hike interrupted by cops Thursday ... after another hiker accused them of possibly mistreating Charlize's toddler ... but TMZ reported the police determined they did nothing wrong.
AMANDA BYNES and her parents are on the verge of getting sued for allegedly trashing the apartment where she's been staying.
JENNIFER LOPEZ inspired Sir-Mix-A-Lot's "Baby Got Back."
CAKE BOSS Buddy Valastro was arrested early Thursday AM for driving while intoxicated.
NICK LACHEY doesn't miss Jessica Simpson, it seems.
THERE WENT HONEY BOO BOO: Mama June admitted not only she believes that "something did happen" to Anna, but that she also dated another registered sex offender named Michael Anthony Ford - and he's daughter Lauryn "Pumpkin" Shannon's real dad.
AN OPEN SECRET: The spotlight again will be trained on the alleged sexual abuse of minors by powerful Hollywood players when Amy Berg's disturbing new documentary debuts in New York on Nov. 14.
THE ISLAMIC STATE & AL QAEDA: Militant leaders from both groups gathered at a farm house in northern Syria last week and agreed on a plan to stop fighting each other and work together against their opponents, a high-level Syrian opposition official and a rebel commander have told The Associated Press.
SYRIA: US and allied forces conducted 16 airstrikes in Syria since Nov. 10; 10 of them near Kobane. US President Barack Obama has requested a review of policy towards Syria and may be open to the deposition of the Assad regime, according to senior officials interviewed by CNN.
IRAQ: Kurdish leaders have quietly expanded a request to Washington for sophisticated arms and protective equipment to battle the Islamic State, but American officials have so far rebuffed the appeals out of concerns about defying the Iraqi government, according to Kurdish officials.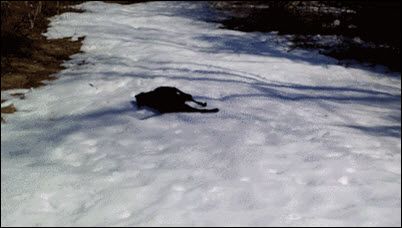 RAFI knows how to dog sled.
TIGGER ON THE LAM: Scores of police patrolled a small town west of the French capital on Thursday night after a tiger eluded a massive search and remained on the prowl in the region near Disneyland Paris.
...AND THERE WERE TURKEYS all over the highway.
HOW CATS decided to domesticate humans.