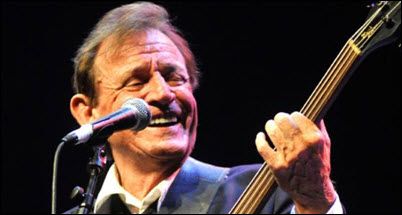 JACK BRUCE, who became famous in the 1960s as the bassist and lead vocalist for the hugely successful rock group Cream (along with Eric Clapton and Ginger Baker), and whose adventurous approach to his instrument influenced two generations of rock bassists, died from liver disease on Saturday at his home in Suffolk, England. He was 71. Though known for their expansive reinventions of blues standards, Cream also turned out a number of pshch-blues pop gems, including "I Feel Free," "Sunshine of Your Love," and "White Room" -- all of which were co-written by Bruce. I saw him play with the Golden Palominos, where he took lead vocals on "Silver Bullet." The band also tackled "White Room" and "Deserted Cities of the Heart", because, well, Jack Bruce. He played so hard his fingers started bleeding; he had to be bandaged up by Chris Stamey. For a musician as practiced and aggressive as Bruce to reach that point at that juncture of his long career was quite something to watch. The Guardian traces his journey through the Sixties, including bass duties on my favorite Manfred Mann tune, "Pretty Flamingo."
BOB DYLAN & THE BAND advance stream selections from The Basement Tapes Complete: The Bootleg Series Vol. 11.
NEIL YOUNG advance streams Storytone, both electric and acoustic.
DEERHOOF advance streams La Isla Bonita.
GROUPER advance streams Ruins.
SHE & HIM drop a cover of Dusty Springfield's "Stay Awhile" ahead of their upcoming Classics album. Just tune to 1202 on your AM dial.
THE DECEMBERISTS: Colin Meloy previewed new songs while street busking at CMJ.
BRIAN WILSON plays "Sail On Sailor" at the Ed Sullivan Theater, with Matthew Sweet and Darius Rucker.

DEATH CAB FOR CUTIE talks to Stereogum about the first album without Chris Walla.

PANDA BEAR talks to Pitchfork about fear, family, and projectile vomit.

YACHT took SPIN inside their home and studio.

THE GRATEFUL DEAD turns 50 next year; Martin Scorsese will produce a documentary.
WEEKEND BOX OFFICE: Ouija tops the chart with 20 million against a 5 million budget, for some easy pre-Halloween profit. John Wick places with 14 million, twice what gurus predicted against a 5.5 million budget. Fury shows with 13 million on a 45 percent drop, which keeps it on track to recoup its production budget domesticallly and seek profit overseas. Gone Girl drops to the fourth slot with another 11.1 million, continuing to do impressive business in all markets in its fourth week. The Book of Life rounds out the Top 5 with 9.8 million on a 42 percent drop, which is pretty steep for the send weekend of a family movie.
JOHN WICK is in many respects a typical revenge picture, so it really has to succeed in style and execution. Fortunately, it does and then some. The script throws in a few intriguing novelties, creates a world, and a tone just over-the-top enough to let you know they're not taking themselves too seriously, even if they take the action very seriously. Keanu Reeves, Michael Nyqvist, Willem Dafoe, Ian McShane and Adrienne Padlicki in particular get to gleefully gnaw on what ever scenery they aren't blasting apart at the moment.Throughout, people ask Wick if "he's back," and I would think he will be; with this flick, Reeves certainly is.
HERE COMES HONEY BOO BOO was cancelled after TMZ reported Mama June is dating a convicted child molester who sexually abused June's daughter.
MINDY KALING is profiled by The New York Times.
ASHLEY GREENE's apartment that burned to a crisp last year had one remnant ... a crack pipe, according to a sworn statement by the building manager.
GEORGE & AMAL CLOONEY continue to celebrate their nuptials in London.
LAKE BELL and her artist husband Scott Campbell have welcomed a baby girl.
SARAH MICHELLE GELLAR reveals her favorite onscreen kiss.
JENNY McCARTHY gives you TMI on her honeymoon period with Donnie Wahlberg.
MARCIA STRASSMAN, known for her roles in such hits as Welcome Back, Kotter and M*A*S*H*, died on Friday after a long fight with breast cancer, her sister Julie Strassman confirmed. She was 66.
NIGERIA: Boko Haram kiddnaped scores of schoolgirls days after agreeing to a ceasefire.
UKRAINE: Darth Vader is running for Parliament, vows to transform the republic into a galactic empire. He was blocked from voting.
IRAQ: Despite increasing assistance from the United States, Iraq's ability to mount a sustained counteroffensive to retake territory seized by the Islamic State is still months away.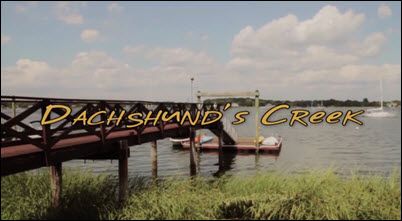 DACHSHUND'S CREEK: Now this I might watched.
WILD COYOTES help capture an Iowa fugitive.
THE WORLD'S LONGEST SNAKE had a virgin birth.
TUNICORN: A huge tuna survived being impaled on an embedded Marlin spike.