TOMMY RAMONE, a/k/a Tommy Tom Erdelyi, the founding drummer and last surviving original member of the Ramones, the New York City band whose dizzying, short blasts of melody codified the sound of punk rock, died on Friday at his home in Ridgewood, Queens. He was 65. The cause was cancer of the bile duct. After Tommy left the band, he produced the Replacements' Tim in 1985 and Redd Kross' Neurotica in 1987. It is hard to overestimate the impact of the Ramones on modern rock, and Tommy's unique beat, as well as his understanding of the Ramones' vision were key to their lasting influence. Here are the original Ramones, playing the equally legendary CBGBs in October 1977, two weeks before the release of Rocket to Russia, Tommy's final LP with the band. Your setlist includes: "Blitzkrieg Bop"; "Sheena is a Punk Rocker"; "Beat on the Brat"; "Now I Wanna Sniff Some Glue"; "Rockaway Beach"; "Cretin Hop"; "Oh,Oh, I Love Her So"; and "Today Your Love, Tomorrow the World."
P.J. HARVEY, Live at London's Royal Albert Hall, circa October 2011.
WHITE FENCE is advance streaming For the Recently Found Innocent.
ALVVAYS is advance streaming their self-titled debut.
JOYCE MANOR is streaming Never Hungover Again.
THE HOLLIES: "Have You Ever Loved Somebody", courtesy of the Beeb.

CHRISTOPHER OWENS: The former Girls frontman talks to Pitchfork about quitting drugs, finding love, and moving forward.

HARVEY DANGER's Sean Nelson talks to PopMatters about revisiting Where Have All The Merrymakers Gone?

CHARLIE HADEN, the pioneering jazz bassist who played with the likes of Ornette Coleman and Keith Jarrett before enjoying a decades-long solo career, died Friday at age 76 of a prolonged illness.

LAURIE ANDERSON was trapped in a hyperbaric chamber last week.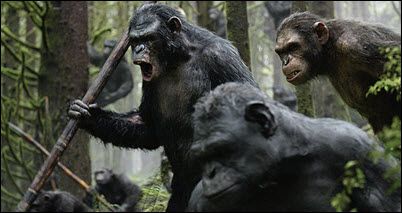 WEEKEND BOX OFFICE: Dawn of the Planet of the Apes dominates the box office with 73 million, not only well over its predecessor's 54.8 million opening, but also accounting for over half of the weekend's ticket sales.The simians took in another 30 million overseas, though it avoided countries where the World Cup final would be in conflict. Transformers: Age of Extinction places a distant second with 16 million, and continues to lag its predecessors, but crosses the 200 million mark domestically, which is roughly what the Apes will likley make in their entire run. The 'bots have also racked up 543 million overseas, 262 of that in China alone. Welcome to the global economy. Tammy shows with 12.9 million; the film which no one seems to have liked nevertheless is closing in on the 60 million it likely needs to profit. 22 Jump Street takes the fourth slot with 6.7 million and is well in the black with about 172 million domestic against a 50 million production budget. How to Train Your Dragon 2 rounds out the Top 5 with 5.9 million; this equel has no recouped its production budget domestically, but 350 million worldwide is still short of 435 million it likely needs to profit.
TRACY MORGAN is suing Walmart over the New Jersey Turnpike accident that left one person dead and several people, including him, hospitalized.
JUSTIN BIEBER & SELENA GOMEZ now appear to be in a rebound dating duel.
KATE UPTON hasn't ruled out posing for Playboy.
COLIN FARRELL & TAYLOR KITSCH are leading candidates for the second season of HBO's True Detective.
PARIS HILTON hosted a bloody brawl at her 65K rental pad.
STEVEN SPIELBERG is attacked in social media for killing a Triceratops. Hoo boy.
LIBYA: Islamist militias surrounded and attacked Tripoli's airport, trying to take control from the Zintani militias that have been defending it.
IRAQ: In a possible portent of growing factional conflict, a leading Kurdish minister was removed from Iraq's government, and the Kurdish semi-autonomous government took over two oilfields in the north, officials said Friday. Fighters from the newly established Islamic State ambushed and destroyed an Iraqi armored column in the western province of Anbar. Islamic State fighters also captured several American-made armored personnel carriers.
SYRIA: While the world focuses on the military advances the Islamis State has made in western Iraq, U.S. officials and terrorism experts point across the border to Syria, where the radical Islamist militia has consolidated recent gains and maybe forming a "safe haven" from which terror attacks against Western targets could be launched.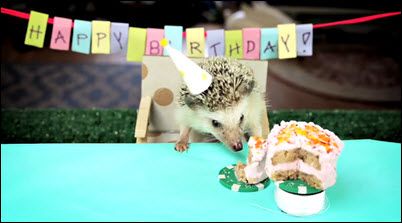 A TINY HEDGEHOG has a tiny birthday.
INVASIVE TEGU LIZARDS steal crocodile eggs in Florida.
A PREGNANT TARANTULA has escaped from her South Slope home.
A FOX AND HOUND, living together, mass hysteria!