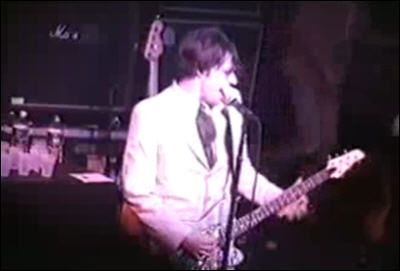 PAUL WESTERBERG: "Valentine," solo circa 1996
BRYAN FERRY is your Valentine's Day DJ on All Things Considered.
BEACH FOSSILS are advance streaming Clash The Truth.
MARK KOZELEK (Red House Painters) is streaming the wildly eclectic covers collection, Like Rats. How eclectic? From Maxine Nightingale to the Descendents to Yes.
SALLIE FORD & THE OUTSIDE SOUND are advance streaming Untamed Beast.
JAMIE LIDELL is advance streaming his self-titled album, but you have to sign up for New MySpace. Sigh.
THE STROKES drop "All The Time" ahead of the Comedown Machine.
COCOROSIE drops "Gravedigress" ahead of Tales of a Grass Widow.
ERIC CARMEN: "All By Myself," in the interest of equal time.
14 MUSICIANS (incl. members of Camper Van Beethoven) discuss love songs.
THE 10 WORST LOVE SONGS, according to Spinner.
VERONICA FALLS singer and guitarist Roxanne Clifford talks to ClashMusic about the band's sophomore LP, Waiting For Something To Happen.(Thx, Chromewaves.)
LES SAVY FAV, ranked by Stereogum.
NOW SHOWING: The St. Valentine's Day weekend's wide releases include: A Good Day to Die Hard, which is currently scoring 06 percent on the ol' Tomatometer; Safe Haven, which is currently scoring 13 percent; and Beautiful Creatures, scoring 46 percent, all on early reviews so click the links for updates. On Friday, Escape From Planet Earth opens wide, but there's no score for it yet.
STEVE MARTIN became a first-time Dad at 67.
KIM KARDASHIAN & KANYE WEST are at the center of a TSA investigation following a major security violation at JFK yesterday, butthe couple is not the target of the probe.
LINDSAY LOHAN: One of her lawwers is admitting she can't get in touch with her, can't make her sit down for a deposition in a pending lawsuit.
CONNIE BRITTON is profiled by the New York Times.
HUGH JACKMAN talks to THR about his surprising H'wood pals and his mother's abandonment.
JAMES FRANCO gets a lengthy profile in Details, in which Oz discusses an unusual talent.
SYRIA: In a major engagement, government forces bombarded rebels in southeastern Damascus in an attempt to drive them out of the capital. The death toll has reached 70,000 in the two-year conflict.
EGYPT: A bipartisan group of US senators called for the restructuring of US aid to Egypt to focus more heavily on counterterrorism efforts, particularly in the Sinai.
IRAN: The head of Iran's atomic agency said Iran began installing a new generation of uranium enrichment machines last month. Israeli Prime Minister Netanyahu warned that Iran was nearing the red line he had drawn at the UN. A delegation from the International Atomic Energy Agency is seeking a deal that will enable it to visit the Parchin military site.
IRAQ: "Gunmen" killed the head of Diyala province's reconciliation council in an attack in Baqubah. Police captured three "terrorists" in Baghdad; the three men were dressed as women and were attempting to get through a checkpoint when captured.
MARU: The box cat returns to the genre that made him viral.
A SEA SLUG that is able to detach, re-grow and then re-use its penis has surprised scientists.
A PUZZLED BEAR on a fishing trip.
10 LOVED-UP ANIMAL PICS for Valentine's Day.