NIRVANA played MTV Unplugged In New York 20 years ago. Watch the whole ting and get off my lawn.
NICK LOWE stopped by WFUV's Studio A to play new songs and chat about the making of his Christmas album.
WHITE DENIM stopped by WFUV's Studio A to play new songs and to talk with me about the making of Corsicana Lemonade.
CRYSTAL ANTLERS put their own unique twist on surf-psych-punk at KEXP.
SARAH JAROSZ played a Tiny Desk Concert at the offices of NPR.
CHARLES BRADLEY covers Black Sabbath's "Changes."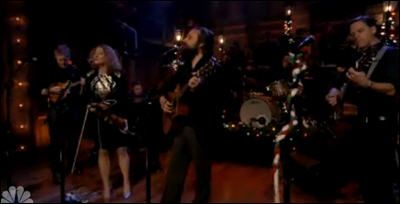 IRON & WINE, CALEXICO, KATHLEEN EDWARDS & GLEN HANSARD team up to cover the Pogues' seasonal classic, "Fairytale of New York," for Jimmy Fallon.
MOE TUCKER remembers Lou Reed.
UNKNOWN MORTAL ORCHESTRA's Ruban Nielson talks about insomnia, the occult and more with The Guardian.
WHAT MAKES TENNESSEE MUSIC GREAT? Editors from The Oxford American talk to Weekend Edition about assembling the Tennessee music issue.
THE TOP ALBUMS of 2013, according to American Songwriter.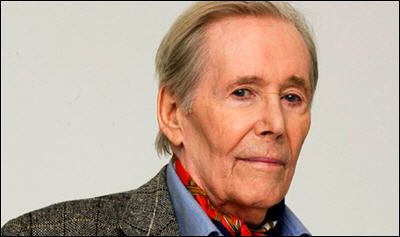 PETER O'TOOLE, an Irish bookmaker's son with a hell-raising streak whose performance in the 1962 epic film Lawrence of Arabia earned him overnight fame and established him as one of his generation's most charismatic actors, died on Saturday in London. He was 81. Sadly, most of his obits omit The Lion in Winter, in which he is terrific and stages one of the most dysfunctional family Christmases evah.I had just watched it again on Saturday, and it still holds up, minus about 20 seconds in the middle.
JOAN FONTAINE, the Oscar-winning actress who strred in Hitchcock's Suspicion and Rebecca, both rival and sister to Olivia de Havilland, has died at 96.
TOM LAUGHLIN, the maverick actor and filmmaker best known for the Billy Jack films, has died. He was 82. One tin soldier rides away.
WEEKEND BOX OFFICE: As expected, The Hobbit: The Desolation of Smaug tops the chart with 73.7 million, which is mostly good news. Granted, it's not the 85 million record set by the first Hobbit; indeed, this is only the fourth biggest December debut. OTOH, Hollywood largely avoided competing against the first Hobbit, which ultimately underwhelmed many. This time, Peter Jackson still faced competition for screens from movies still doing big business, including The Hunger Games: Catching Fire, Frozen, and even the debut of Tyler Perry's A Madea Christmas. Moreover, worldwide receipts for Smaug are actually running a bit ahead of the last Middle Earth pic, so it's likely this will finish over a billion. Frozen placed with 22.2 million on a leggy 30 percent drop on over 3700 screens (see what I mean?). Disney's domestic total here is 164 million and -- based on Tangled's track record -- is likely to rake in another 115 million or so over the holidays. A Madea Christmas shows with 16 million, which is below the 20 million-like-clockwork Perry usually gets. In fact, the lowest a Madea pic has opened is 25 million, so perhaps Christmas was a bad idea here. The Hunger Games: Catching Fire drops 2 notches, but still rakes in 13.2 million on over 3500 screen; its 356 million domestic still puts this one in range of breaking 400 million over the holiday season. Thor: The Dark World rounds out the Top, but with a mere 2.7 million that tells you who Smaug killed. Even so, it will cross 200 million domestic soon and is already north of 600 million worldwide. Below the fold, Out of the Furnace is flopping.
THE HOBBIT: THE DESOLATION OF SMAUG is one where I don't think I have much to offer beyond the conventional wisdom. Many found An Unexpected Journey to be slow to get moving and overstuffed; Smaug is still a bit overstuffed, but not slow-moving, as one would expect from a second act, and better for it. This one is much less about Dwaves singing and eating, and a bit more about Elves decapitating Orcs and riddling them with arrows. Orlando Bloom returns as Legolas, though the character did not appear in the book. I've heard hardcore fans were not pleased that Evangeline Lilly (Lost) was cast as Tauriel, an Elf (and a storyline) invented by Jackson and his wife/partner, Fran Walsh, but I can't say she particularly bothered me. Smaug is voiced by the seemingly ubiquitous Benedict Cumberbatch (Smaaauuug!), who also reprises his role as the Neuromancer. If you're not overly attached to the book you can settle in for an entertaining ride.
SAVING MR. BANKS is not the film you might expect from the advertising. This is in no small part a (perhaps exaggerated) biopic of Mary Poppins author P.L. Travers, ably portrayed by Emma Thompson, who has experience playing seemingly reserved women with emotions churning beneath the surface. The movie suggests Travers selling the movie rights to Walt Disney was in some sense therapeutic for her, when the real story is much more one of a woman standing up to The Mouse. But Travers is dead and The Mouse gets to write the popular history of the encounter. That said, the movie is entertaining and well-executed when taken at face value. As Disney, Tom Hanks plays a smaller, though pivotal, role in the film than the marketing suggests (again, Hanks is well-cast here as he loves anything smacking of the Sixties). Thompson spends as much or more screen time with Paul Giamatti (her driver), Bradley Whitford (screenwiter Don DaGradi) and Jason Schwartzman and BJ Novak (the Sherman songwriting team), all of who make the most of their material. If you watch, stay for the credit sequence, which features some rare audio from the Disney archive.
KHLOE KARDASHIAN filed court documents to divorce Lamar Odom and restore her name. Later that day, she was photographed heading to the gym with baseball star Matt Kemp.
LINDSAY LOHAN is writing a tell-all book.
EMILIA CLARKE (Game of Thrones) will play Sarah Connor in the Terminator reboot, re-teaming with director Alan Taylor.
ED HELMS is rebooting The Naked Gun, presumably without OJ Simpson.
YEMEN's parliament passed a non-binding bill to ban US drone strikes inside the country.
SYRIA: The UK is tightening sanctions on the Assad regime in Syria after discovering that it managed to obtain regime funds from banks in France and used them to buy food for the Syrian army. A coalition of 15 armed rebel groups, including the Free Syrian Army's Supreme Military Council, reportedly joined together to form the "Syrian Rebels Front"; talks between the FSA and the Islamic Front have not produced an accord, and the FSA as a result sought to form a new military coalition to unify the Syrian rebels that support the FSA.
IRAQ: Insurgents killed 20 people in attacks throughout the country.
AFRICAN CAPE BUFFALO vs LION: Who you got?
BUTTONS AND KITTY, living together... mass hysteria!
A ZEBRA is on the lam in Tennessee.
AND NOW FOR SOMETHING COMPLETELY DIFFERENT: A two-headed piglet.