ARCADE FIRE covers "Uncontrollable Urge" in Hollywood. Plus, the Devo original, for Twofer Monday or something.
INSIDE LLEWYN DAVIS: The soundtrack to the next Coen Bros movie is streaming at NPR.
CATE LE BON is advance streaming her third album, Mug Museum. NPR drops Tom Verlaine and Nico references.
SONGS: OHIA is streaming the 10th anniversary edition of The Magnolia Electric Co.
PAPA: The new project from former Girls drummer Darren Weiss streams Tender Madness.
M.I.A. is streaming Matangi. Not really my thing, but I felt like I should mention it, y'know?
MONTH OF THE DEAD: A free Grateful Dead track every day this month.
ANDREW BIRD drops the title track for the I Want To See Pulaski At Night EP.
SEBADOH drops "No Wound" as a B-side. Because who cares what's on the flip side of a record? I do.
BOOKER T & THE MG's: "Green Onions," live in '68.
VAMPIRE WEEKEND talks to The Guardian about playing the Hollywood Bowl, songwriting, and more...
ISLANDS: Nick Thornbury talks to NOW about becoming more selective, songwriting, his evolution as a musician, and more.
SONGS FOR SLIM becomes a two-disc comp with bonus tracks, including contributions by Peter Holsapple and Soul Asylum.
MIDLAKE's guitarist Eric Pulido steps up to the mic, and talks to Stereogum about taking on vocal duties.
WEEKEND BOX OFFICE: Ender's Game tops the chart with 28 million, which is better than other recent efforts to start Young Adult franchises, but a number that will require good overseas biz against a 110 million budget. And with Thor: The Dark World (which already grossed 109 million in overseas markets) coming this Friday, Ender may have a tough time finding legs here. (In fairness, there really wasn't a perfect weekend to open Ender's Game between this weekend and year's end. It's competitive out there.) Bad Grandpa places with 20.5 million, which is solid and gives a 62 million total against a 15 million budget for the Jackass spinoff. Last Vegas shows with a 16.5 million debut against a 28 million budget, a bit better than predicted, if no Wild Hogs. Free Birds opens in the fourt slot with 16.2 million, perhaps suggesting a tale about Turkeys at Thanksgiving made some parents uncomfortable. Gravity rounds out the Top 5 with another 13.1 million and a 219.2 million domestic total against a 100 million budget (remarkably good for a fifth weekend, btw). Below the fold, Captain Phillips takes sixth with 8.5 million and fading hopes of cracking 100 million domestic. And 12 Years A Slave moved up to No. 7 on just 410 screens; it opens wide this Friday.
ABOUT TIME also opens wide this Friday. Given the marketing emphasizing it's the latest from Richard Curtis, there will be more Love, Actually comparisons from critics than possibly imaginable, but they will mostly miss the mark. Love, Actually-- a film I have seen more times than I care to admit -- is based around the simple idea of stripping down the basic 3-act rom-com to three scenes, packing a bunch of them into one movie, and hoping the viewer doesn't die of diabetic shock. About Time is a film with plenty of sentiment, but not as over-the-top in its method. And it's only partly a rom-com; the other part -- involving time travel -- is a much more effective, much less expensive version of Cloud Atlas. Curtis has assembled a solid ensemble cast, including Curtis vet Bill Nighy (doing his Nighy thing) and newcomers like Tom Hollander. Although Domhall Gleeson does just fine in the lead role, it's fair to say co-star Rachel McAdams gets most of the marketing, and she's very good as acting adorable. Plus, after The Time-Traveler's Wife and Midnight In Paris, it's impressive that she's found roles varying so much in this niche. I'm not going to dissect the potential time-travel problems in the film, as Bruce Willis successfully convinced me in Looper that such talk is simply not worth it. I didn't care for the degree to which Curtis beats the viewer over the head with his message at the end of About Time, but it's a nice enough message, and what comes before is funny and charming enough that you still leave with a spring in your step. I'd even say About Time is worth your time, but that's just brutal; I wouldn't do that to you.
MILEY CYRUS: Currently twerking Benji Madden.
CHRIS BROWN admits he has anger management issues, the first step in his latest quest for judicial leniency.
LINDSAY LOHAN was paid to host a Halloween party; the casino wants its money back.
RYAN GOSLING & EVA MENDES are fighting. Apparently, she's the jealous type.
MICHELLE MONAGHAN and her husband Peter White welcomed their second child.
JENNIFER MORRISON & SEBASTIAN STAN, co-stars of Once Upon a Time, are officially broken up.
COURTNEY STODDEN, 19-year-old attention-seeker, splits from her 53-year-old husband. Whoda thunkit?
PAMELA ANDERSON ran the NYC Marathon, presumably in slow motion.
YEMEN: More than 58 people were killed during clashes between Houthi rebels and Salafists in Dammaj in Saada province. The government has called for a ceasefire, and the International Red Cross said it has been denied access to Dammaj.
LIBYA: Prime Minister Zeidan said Italy will start conducting aerial and electronic surveillance of Libya's borders, from Owaynat, in the southeast near Sudan, all the way to the Libyan-Tunisian-Algerian border in the northwest.
SYRIA: A rebel media center in Raqqah closed its offices in protest against the torture of an activist by the Islamic State of Iraq and the Sham.
IRAQ: After his first meeting with Iraqi Prime Minister Nouri al-Maliki in nearly two years, President Obama said al Qaeda has recently become more active in Iraq. Al-Maliki asked Washington for military equipment and counterterrorism support.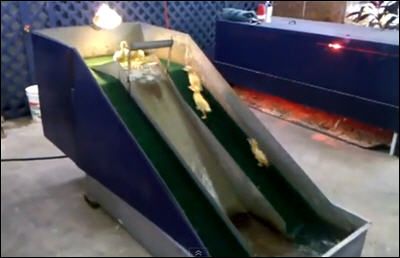 BABY DUCKS ON A WATERSLIDE: Let's go to the video.
AN ALLIGATOR was detained at O'Hare International Airport on Friday.
A MYSTERIOUS WILD BOAR roaming an island in Guernsey could have swum there from France.
WHEN MONKEYS ATTACK: Blame the cat, the dog and the egg salad sandwich.