THE WEEKEND STARTS HERE:
with ELVIS PRESLEY! The King died 36 years ago last night, but remains a global pop phenomenon, so it's worth a recap of highlights from his legendary career. For the 30th anniversary, Canada's Star-Phoenix, discussing ten important parts of Elvis history worth reliving, noted: "His was a sequined coat of many colours: '50s Greaser Elvis. Military Elvis. Hollywood Elvis. Aloha from Hawaii Elvis. Vegas Elvis. And, ultimately, Dead Fat Elvis." The BBC had friend and aide Sonny West recall life with The King.
ACTION NEWS 5 still has its local coverage from Aug. 16-17, 1977 (here, here, here and here) on the Tube, where you can also see funeral footage from the BBC Archive. Here's read the obit that ran the next day in the Washington Post. Elvis Presley News recaps the international headlines from the event and links to the eulogy at his funeral. On a happier note, check out what is likely the first footage taken of Elvis, with backstage shots of Carl Perkins, Johnny Cash and Buddy Holly in 1955; shades of Walk The Line! You can also see him play "I Got A Woman" live o­n his first TV appearance in 1956. I also include his performance of "Hound Dog" o­n The Milton Berle Show six months later, not o­nly because it's historic, but also because Paul Miller and I often reached for it when we would stumble into our KUSR shift at the last minute -- on the broadcast, Uncle Miltie vamped for awhile, which gave us time to pull records for the show. He was also iconic in "Jailhouse Rock" that year. Elvis sang a mashup of "Love Me Tender" and "Witchcraft" with Frank Sinatra when he got back from the Army. All of his movies -- such as "Viva Las Vegas" --made money, but his musical career stalled in the 1960s until he electrified and charmed the public with his televised '68 Comeback Special, which you can see on the Tube. 1970 finds him singing "In The Ghetto" and "Suspicious Minds" in the jumpsuit, though pre-bloated. I'm going to throw in "Little Sister" just 'cause I like it. Sadly, in a few short years, bloated jumpuit Elvis would be delivering a wacked-out take on "Are You Lonesome Tonight?" -- though to be fair, this audio-only version from 1969 is even more demented and he knows it. I would rather remember Jumpsuit Elvis for the signature horns that open "See See Rider." a tribute to his enduring legacy as the fact that he could hit the charts decades after his death with a remix of "A Little Less Conversation," a video subtly recalling "Jailhouse Rock," and Paul Oakenfold's remix of "Rubberneckin'". The King may be gone, but the brand lives on, making millions and recruiting new fans under the watchful eyes of Elvis Presley Enterprises and CKX, Inc.
GREETINGS FROM GRACELAND: It must be said, however, that Elvis Presley Enterprises did not have a good handle on the King's affairs in the years immediately following his death. Chicago radio personalities Steve Dahl and Garry Meier won a local emmy for their 1981 comedic look at what was then a very seedy exploitation of Elvis in Memphis. (Part 1, Part 2, Part 3, Part 4, Part 5, Part 6, Part 7.)
MOJO NIXON & SKID ROPER: "Elvis Is Everywhere."
ELVIS WEEK 2013: The KIng Lives On In Memphis.
THE NATIONAL perfoms a six-song set at the UBS Forum.
THE GOLDBERG SISTERS: Adam Goldberg (more known as an actor) is advance streaming Stranger's Morning.
SHOUT OUT LOUDS stopped by the World Cafe for a chat and mini-set.
VALERIE JUNE stopped by The Current for a chat and mini-set.
THE FRESH & ONLYS drop "Soothsayer" -- the title track of their upcoming EP.
WOODSTOCK: On Aug. 15-17, 1969, hundreds of thousands of people gathered in a lovely natural amphitheater in Bethel (not Woodstock), NY for "three days of peace and music," including sets from Crosby, Stills and Nash, The Who, Santana, Joe Cocker, Jefferson Airplane, Arlo Guthrie, Canned Heat, Jimi Hendrix, and the proverbial many more.
KATHLEEN HANNA talks to SPIN about her new band, new album, and new outlook.
THE 10 BEST PULP SONGS, according to Stereogum.
DAVID LYNCH discusses his new album at Salon.
THE MOST EIGHTIES 80 VIDEOS, categorized by Rolling Stone.
ALLEN LANIER, founding member of classic American hard-rock act Blue Öyster Cult -- and adder of the umlaut -- passed away from complications related to the lung disease COPD. He was 67. The band's statement makes the obligatory reference.
CUTOUT BIN: From Bad Brains to the Beatles, from Seu Jorge to Rick Astley, from Jimi Hendrix to the Jesus & Mary Chain, plus Sly & the Family Stone, The Smiths, Republica, T. Rex and more -- this Friday's fortuitous finds are streaming from the Pate page at the ol' HM.
NOW SHOWING: This weekend's wide releases are: Kick-Ass 2, which is currently scoring 27 percent on the ol' Tomatometer; Lee Daniels' The Butler, currently scoring 73 percent; Paranoia, coming in at 04 percent; and Jobs, the biopic scoring 23 percent.
LISA ROBIN KELLY -- who played Eric Forman's older sister on "That '70s Show" -- passed away in her sleep Wednesday night at a rehab facility in California.
CHRIS BROWN's hit-and-run case was dismissed, even though prosecutors argued Chris deserved to be punished and punished severely for his alleged vehicular misdeed.
AMANDA SEYFRIED's new beau is... Justin Long.
LINDSAY LOHAN is guesting on Eastbound And Down.
KIM KARDSHIAN finally showed her face in public after birthing baby North West.
KATE BOSWORTH is getting married to director Michael Polish in a "country- style wedding" at the end of the month.
LEBANON: A car bomb struck a complex used by Hezbollah in a Beirut suburb, killing at least 20 people and injuring over 200 more. Shortly after the blast, a video was released by a previously unknown Syrian Sunni group, the Aisha Umm-al Mouemeneen, claiming the attack and warning Hezbollah.
EGYPT: With their leaders jailed or silent, Islamists reeled in shock at the worst mass killing in Egypt's modern history. By Thursday night, health officials had counted 638 dead and nearly 4,000 injured, but the final toll was expected to rise further. President Obama called on the military government in Egypt to stop "the cycle of violence and escalation" and said the US was canceling planned joint military exercises with Egypt; aid to Egypt has not been suspended, due to concerns about destabilizing the region.
IRAQ: Al Qaeda in Iraq killed 34 people in a series of nine bombings throughout the capital of Baghdad. One bombing took place near the Foreign Ministry. Secretary of State Kerry met with his Iraqi counterpart and warned of the threat posed by the al Qaeda network in Iraq and beyond.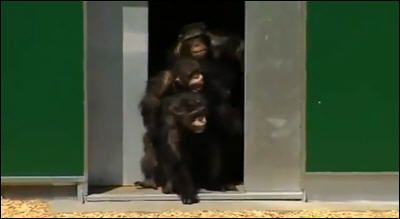 LAB CHIMPS breathe fresh air after 30 years.
THE OLINGUITO: Papa's got a brand new mammal. It's a member of the raccoon family.
A GOLDEN RETRIEVER is expected to recover after eating 13 rocks.
ZOO FRAUD: A Chinese zoo's attempt to pass off fluffy dogs as "African lions" and rats as "snakes" has infuriated the zoo's visitors.