THE WEEKEND STARTS HERE:
...with THE LEMONHEADS! Evan Dando's songbook has always struck me as autmnal, though not all of it really is. For example, a very young Dando released his take on Suzanne Vega's hit "Luka" in May '89. He dissolved the band after releasing the Lovey LP, but returned with a new lineup on "It's A Shame About Ray" in July '92. Despite Johnny Depp's appearance in that video, the Ray album lingered in the lower reaches of the charts, despite being filled with grunge-pop goodness like "Rockin' Stroll" and "Confetti." But that November, Atlantic released the band's take on Simon & Garfunkel's "Mrs. Robinson," which shot to No. 19 on the UK charts and landed Dando unlikely US gigs like "Live with Regis and Kathie Lee." The flip side of that single was the goofy "Being Around," which becomes a singalong live. The followup LP, C'mon, Feel the Lemonheads, hit the Top 5 in the UK, but only No. 56 in the US, with the single "Into Your Arms," which would later turn up on the soundtrack to Before Sunrise and in an FTD commercial. The other two videos from the LP, like "Ray," sport celeb cameos -- Angelina Jolie turns up in "It's About Time" and a young Chloë Sevigny can be seen in "Big Gay Heart" (which Dando makes safe-for-broadcat with a funny spoonerism). Unfortunately, Dando would soon slide into heavy drugs and the next album, Car Button Cloth was not nearly as successful -- commercially or artistically. An unremarkable solo album and sporadic gigs would follow, until Dando got his personal life together and revived The Lemonheads brand with a self-titled LP in 2005, from which "Black Gown" was the lead track. BONUS: Dando and Mudhoney's Mark Arm fromted the DKT-MC5 on a ripping version (is there any other kind) of the classic "Kick Out the Jams" of The Late Late Show.
OKKERVIL RIVER plays songs from The Silver Gymnasium on WNYC Soundcheck.
WILD BELLE stopped by The Current for a chat and mini-set.
VALERIE JUNE plays a WFUV Live performance from City Winery.
JOHNNY CASH, Live in Amsterdam, Feb. 26, 1972.
ROBERT POLLARD drops "Tonight's The Rodeo" ahead of Blazing Gentlemen.
WOODEN WAND & THE WORLD WAR IV gives "Directions to Debbie Harry's House" ahead of their self-titled LP.
COUSTEAU: "The Last Good Day of the Year." Or close to it.
BIG STAR: Jody Stephens talks to KUTX about the new documentary, with a 1978 cut of Alex Chilton covering Ernest Tubbs as a bonus.
NIRVANA: Dave Grohl talks to Rolling Stone about the making of In Utero.
KING CRIMSON is reforming with three drummers, says Robert Fripp.
THE FIVE MOST VITAL 4AD RECORDS DEBUTS, according to Drowned in Sound.
CUTOUT BIN: and more -- this Friday's fortuitous finds are streaming from the Pate page at the ol' HM.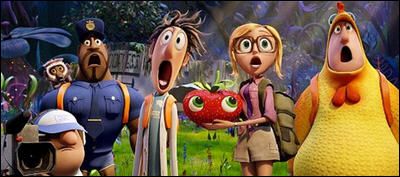 NOW SHOWING: This weekend's wide releases are Cloudy with a Chance of Meatballs 2, which is currently scoring 64 percent on the ol' Tomatometer; the expansion of Rush, which is currently scoring 86 percent; Don Jon, scoring 82 percent; and Baggage Claim, scoring 9 percent.
RUSH: Ron Howard has been selling this as a film with sex, speed, and suspense. Rush, which chronicles the rivalry of 1970s Formula 1 racers James Hunt and Niki Lauda, delivers on all those elements. But Rush is also a film about (obvious pun intended) what drives these two men, both the similarities and the differences (In real life, the two were less antagonistic than the film portrays). It asks questions about the degree to which they drive each other, and whether happiness is the enemy of victory -- but offers no easy answers, which is probably all to the better. Chris Hemsworth and Daniel Brühl both deliver strong perfomances and one wonders if there was a bit of art imitiating life in the back of their minds.
DON JON:
KALEY CUOCO: The Big Bang Theory star is engaged to tennis star Ryan Sweeting.
LAMAR ODOM's life is now revolving around smoking crack and partying with 2 young women.
LINDSAY LOHAN will get to keep her huge paycheck from Oprah Winfrey, but only after an intense showdown.
RICHARD GERE & CAREY LOWELL split after 11 years of marriage.
JOSEPH GORDON-LEVITT suggests he's got a girlfriend. People were talking, y'know.
RUSSIAN Foreign Minister Lavrov has claimed that homemade sarin was used in a chemical attack in Aleppo on March 19, and that a similar but stronger concentration of sarin was used in the Aug. 21 attack in Damascus. Lavrov said that an "understanding" between Russia and the US has been reached on a draft UN resolution on Syria. US and Russian officials now believe that the vast majority of Syria's nerve agent stockpile consists of "unweaponized" liquid precursors that could be neutralized relatively quickly.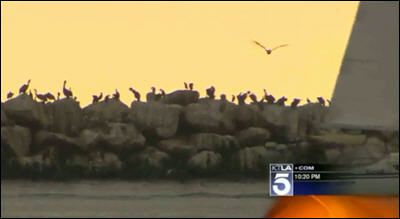 RARE BLUE-FOOTED BOOBIES: Let's go to the video.
A TESTICLE-EATING FISH was caught in New Jersey.
14 BABY PANDA CUBS, One Blanket.
35 SPECTACULAR WILDLIFE PHOTOS from the National Geographic Photo Contest.