THE WEEKEND STARTS HERE: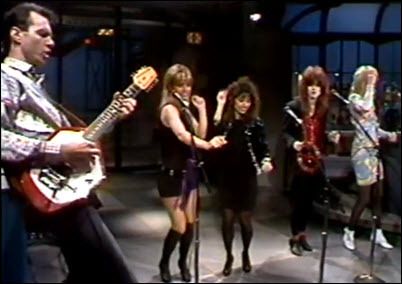 ... with THE BANGLES! There's no better way to start than with these live takes on "Hero Takes A Fall" and Kimberley Rew's "Goin' Down To Liverpool" for Dave in 1984. It was that sort of rawk (and the hotness of Susanna Hoffs) that got Prince to give them "Manic Monday," their first mainstream hit, from the A Different Light album, which included Jules Shear's "If She Knew What She Wants," Alex Chilton's "September Gurls," and -- inevitably -- Liam Sternberg's "Walk Like An Egyptian." Nevertheless, their fondness for the genres of the mid-60s was still evident in their take on Simon & Garfunkel's "Hazy Shade of Winter" for the Less Than Zero soundtrack, and the psych-garage-bubblegum of "In Your Room" on the Everything album, which yielded their final No.1 hit, "Eternal Flame." The draw from the 60s is a constant I saw them in a club, on a big stage and in a club again -- the last time was at a House of Blues, where they covered the We Five's "You Were On My Mind." However, I'll confess that I put off featuring the band for about a bit, until the Susanna Hoffs solo cover of Bad Company's "Feel Like Makin' Love" popped back up on the Tube after an absence. That woman knows how to shake her tambourine.
FONTAINES D.C., Live on KEXP.
THE CHILLS, Live on KEXP.
CHERRY GLAZERR, Live on KEXP.
LUNA shares a cover of Thunderclap Newman's "Something In The Air" and "The Oort Cloud/Kuiper Belt."
SUN KIL MOON covers Minnie Ripperton's "Loving You."
FATHER JOHN MISTY rolls out a new song called "Tell It Like It Is."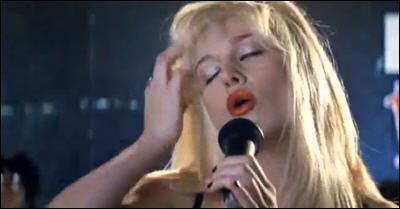 THE CLASH AT DEMONHEAD covers Metric's "Black Sheep." I remember when Envy was Nat -- and most people hadn't heard of Brie Larsen.
MARK RONSON talks about his sad bangers.
YOUTUBE & UNIVERSAL will team up to remaster nearly 1000 classic music videos.
THE NUMBER ONES looks at Elton John's hammy, hard-vamping cover of the Beatles' "Lucy In The Sky With Diamonds," recorded with John Lennon.
NOW SHOWING: This weekend's wide releases include Toy Story 4, which is currently scoring 98 percent on the ol' Tomatometer; the reboot of Child's Play, currently scoring 70 percent; and Anna, scoring 40 percent.
TOY STORY 4 will rip your heart out, because that's what these movies do. Key & Peele, Tony Hale, Christina Hendricks and Keanu Reeves bring their considerable talents to this bittersweet apparent finale of the franchise, which is by turns hilarious, dark, and charming -- with a few lurking questions about the meaning of life.
KEANU REEVES went all Keanu on his Toy Story 4 charatcer.
ASHTON KUTCHER & MILA KUNIS set the record straight on their split rumors.
JUSTIN BIEBER may want to fight TOM CRUISE in the Octogon after all?
JENNIFER LAWRENCE wants her wedding to be a blowout.
STAR WARS: Keri Russell says she cried over the script for The Rise of Skywalker.
J.J. ABRAMS and his son are writing a new Spider-Man comic book series, featuring a mystery that is never fully answered.
GOATS have the same range of view while standing with their head up as they do while grazing.
DO NOT SWIM in the swan's fountain.
AN ALLIGATOR tears a truck apart.
A BEAR relaxes in a hot tub.