THE WEEKEND STARTS HERE:
...with POWER POP! A few of these may be known generally, like Cheap Trick's "Way of the World" and Nick Lowe's "Cruel to Be Kind"... and some well-known to fans of the genre, like Dwight Twilley's "I'm On Fire," Shoes "Too Late," The Records' "Starry Eyes," the Flamin' Groovies' "Shake Some Action" and the Plimsouls' "A Million Miles Away" (seen here in a rare live slot). Others are well-known to longtime Pate fans, like the Three O'Clock's "Her Head's Revolving" or Let's Active's "Waters Part."
BOB DYLAN: Hear and advance stream of highlights of The Rolling Thunder Revue: The 1975 Live Recordings.
PELICAN advance streams Nighttime Stories.
STEF CHURA advance streams Midnight.
THE CURE perfoms Dinsintegration.
BILL CALLAHAN advance streams five more songs from Shepherd In A Sheepskin Vest.
REDD KROSS goes "Beyond The Door."
BRUCE SPRINGSTEEN shares "Tuscon Train."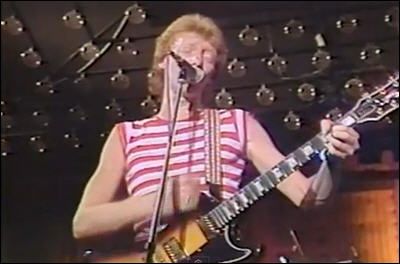 BRAM TCHAIKOVSKY: "Girl Of My Dreams" and "Lady From the USA", live. Because it's Power Pop Friday, of course.
LEON REDBONE, legendary Tin Pan Alley/jazz interpreter, died early Thursday morning at age 69.
PETER BUCK: The R.E.M. man talks guitar chemistry, raw riffs, and his latest album with Filthy Friends.
THE BEATLES' only live performance on Top Of The Pops has been found in an attic.
JOHNNY MARR talks to NME about Theresa May, his acting career, new music, The Smiths' legacy and Morrissey.
THE NUMBER ONES looks at Paper Lace's gleefully dumb and ahistorical gangland story-song "The Night Chicago Died."
NOW SHOWING:This weekend's wide releases include Godzilla: King of the Monsters, which is currently scoring 43 percent on the ol' Tomatometer; Rocketman, which is scoring 89 percent; and Ma, scoring 62 percent.
RAMBO: LAST BLOOD has a trailer online.
THE DARK CRYSTAL: AGE OF RESISTANCE has a trailer online.
R. KELLY has been charged with 11 new sex-related counts, including some that carry a maximum sentence of 30 years in prison.
MOBY cancels his book tour after apologizing for claiming he dated Natalie Portman.
ASHTON KUTCHER testified in the trial of suspected serial killer Michael Gargiulo.
JOHN WICK 3: Director Chad Stahelski Tells Uproxx The Secrets Behind The Movie's Incredible Stunt Dogs.
RELAX, it's the weekend.
THE GRASS IS ALWAYS GREENER in another bowl.
SULLY, George H.W. Bush's service dog is still playing a vital role in rehabilitating veterans.
POACHING is sending the shy, elusive pangolin to its doom.