VAMPIRE WEEKEND played "Ya Hey" and Everlasting Arms" on Fallon.
THE NATIONAL plays a set that features songs from the record "Trouble Will Find Me" live on KEXP from The Cutting Room Studios in New York City.
JAPANTHER advance streams Eat Like Lisa Act Like Bart.
LONELY WILD stops by The Current for a chat and mini-set.
ALL SONGS CONSIDERED: Tracks from Sam Phillips, Daughter, Front Bottoms and more highlight the latest edition.
MAYER HAWTHORNE & JESSE WARE team up on "Her Favorite Song."
SONNY & THE SUNSETS drop "Palmreader" ahead of Antenna To The Afterworld.
KING KHAN & THE SHRINES work it like Wilson Pickett in "Land of the Freak."
BREEDERS bassist Josephine Wiggs talks to PopMatters about recording Last Splash.
TELEKINESIS: Michael Benjamin Lerner talks to the Village Voice about working with Jim Eno of Spoon.
JIM JAMES talks to the Dallas News about Regions of Light and Sound of God. (Thx, Chromewaves.)
WILL OLDHAM, ranked by Stereogum.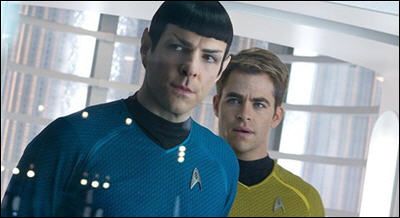 STAR TREK: INTO DARKNESS is dedicated to our post-9/11 veterans, and it's fairly easy to see why. As the title suggests, JJ Abrams' second outing with the Enterprise touches on our darker post-9/11 impulses and our efforts to overcome them (that said, it's not a particularly political film; it's more spice for the stew). Like another ST sequel -- The Wrath of Khan -- this one is also about how much to follow protocols, taking personal responsibility, the danger of hubris to hero and villain alike, and sacrifice. That list, btw, is not all-inclusive, if you know what I mean and I think that you do. Aside from the returning cast, Bendedict Cumberbatch (BBC's Sherlock) is sufficiently badass as the terrrorist "John Harrison" wink wink and Alice Eve is fetching, even with an accent ill-suited to her character. Near the end, there is a moment -- a very short line of dilaogue -- as wrong as it is inevitable, and I wish the screenwriters had figured out how to do it better. Otherwise, a fine piece of popcorn fare sure to be enjoyed by those who liked the ST reboot, and perhaps even by some who were less than charmed by the last one.
ANGELINA JOLIE is also planning to undergo surgery to remove her ovaries.
CHARLIE SHEEN wants to expose what he believes is a crass ploy by ex-wife Brooke Mueller to make her brother the guardian of their kids so she can still get her hands on Charlie's gigantic child support checks.
CHRIS PINE & JAKE GYLLENHAAL in a Sondheim musical?
ASHTON KUTCHER & DEMI MOORE's contentious divorce has now spiraled into a 10 million dollar battle over his venture capital fund with Madonna's manager Guy Oseary and billionaire Ron Burkle.
KATIE HOLMES has been asked out seven times on the set of the Spike Lee-produced "Mania Days."
JOHNNY DEPP & AMBER HEARD engaged? Take it with a truckload of salt.
THE UNITED STATES: Seven people were caught trespassing after midnight on Tuesday at the Quabbin reservoir in Belchertown, Mass., which supplies water to Boston and 40 other communities.
SYRIA: Rebels detonated two car bombs simultaneously outside the central prison in Aleppo, attempting to free inmates, including al Qaeda members.
EGYPT: The Egyptian prosecutor's office says evidence shows three suspects linked to al Qaeda targeted the US and French embassies in Cairo, as well as an Egyptian army facility in the Sinai Peninsula, according to state news.
IRAQ: Insurgents killed 35 Iraqis in a string of bombings, including a suicide attack, in Baghdad, Mosul, and Kirkuk. Al Qaeda fighters killed two Awakening members near Abu Ghraib. Security forces captured an al Qaeda leader in Fallujah.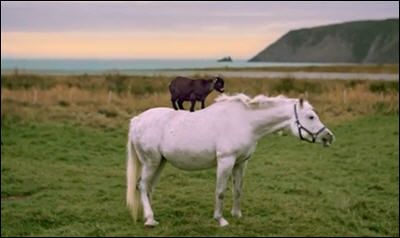 A GOAT ON A HORSE: Let's go to the video.
LION CUBS surprised zookeepers at the Hang Zoo, in lower Austria.
A CHIMP's fuzzy photos are set to sell for big bucks.
A GATOR attacked a man fleeing a traffic stop. Civic minded reptile.